The fifth year of SERC Talks begins on August 18, 2021, focused on the theme Test and Evaluation with "What Does Test & Evaluation Mean in a Digital Engineering Enabled World?" presented by Darryl Ahner, Director of Scientific Test and Analysis Techniques in Test & Evaluation Center of Excellence and Interim Dean for Research at U.S. Air Force Institute of Technology. The webinar marks the first of three that will focus on Test and Evaluation throughout the remainder of 2021.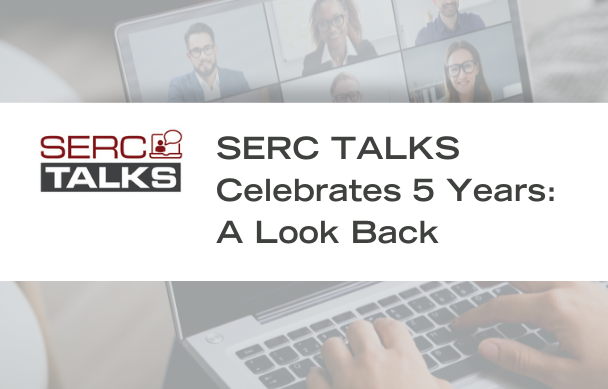 The SERC Talks research webinar series was launched on June 1, 2016 to stimulate ongoing and collaborative dialogue between academia, government and industry sectors, and has featured thought leaders from our Systems Engineering community, who share their insights on various questions relevant to the field. Each year SERC Talks focuses on two themes and delivers three webinars per theme annually. Series speakers have included Mr. Grady Booch, IBM Almaden Research Laboratory, presenting "What is the Self?" in the Cyber-Physical Learning Systems series; Dr. Barry Boehm, SERC Chief Scientist Emeritus, presenting "How to Query, Qualify and Quantify the Qualities Quagmire?", as well as Dr. William Donaldson from Christopher Newport University, presenting "What Does Digital Transformation Look Like from the C-Suite?".
The series has developed a healthy international live viewing as well as a growing asynchronous viewing via its video archive, which currently holds 30 archived talks (available on the SERC YouTube channel and the SERC website), making the series a valuable long-term resource for classroom and other uses.
Since 2016, SERC Talks has been viewed live by more than 38 countries and has nearly 10,000 cumulative YouTube views. SERC Talks live viewership spans sectors, with 28% representing academia, 13% FFRDC, 17% government, and 42% industry.
The following list of SERC Talks illustrates the breadth of topics covered since 2016 and serves as a reference of what is available for viewing and use. The complete inventory of SERC Talk videos can be accessed via the SERC YouTube channel and the SERC Talks page.
Digital Transformation 
Mission Engineering 
Autonomy & Trust 
Distributed Autonomy 
Applying DevOps to Complex Multi-Organizations Systems 
Systems and Software Qualities Tradespace Analysis 
Successfully Applying Agile Methods for High-Criticality Systems 
Cybersecurity 
Cyber-Physical Learning Systems 
Model-Centric Systems Engineering 
SERC Talks is an open forum featuring leaders in our community sharing their insights on topics relevant to Systems Engineering (SE) and its evolution.  We encourage you to join and provide input and insights during these online interactive discussions as we strive to create an ongoing and more collaborative dialogue between academia, government, and industry sectors of the SE community.
For more information about SERC TALKS: