SERC TALKS: "What's Really Distributed in Distributed Autonomy?"
Wednesday, August 7, 2019 @ 1:00 pm

-

2:00 pm

EDT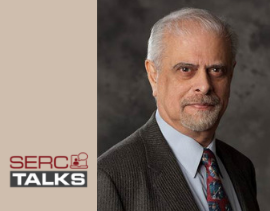 Speaker: Dr. Azad Madni, Executive Director, Systems Architecting and Engineering Program; Director, Distributed Autonomy and Intelligent Systems (DAIS) Laboratory, Professor of Astronautical Engineering; University of Southern California | CONTACT
Abstract
Distributed autonomy pertains to a sociotechnical system in which geographically distributed human and software agents make independent observations, pool them to jointly determine the state of the environment, and then make collaborative decisions based on their shared goals and knowledge of environment state. This Talk presents ongoing research on adaptive cyber-physical-human system, an example of intelligent distributed autonomy. The perimeter security of a parked transport aircraft using multiple surveillance quadcopters is used as an illustrative example. The distributed system simulation comprises: a world server, which maintains the state of all world entities and runs continuous dynamic simulation of all quadcopters; a perimeter defense computer, which runs the dashboard controlling the quadcopters; and an opposing force computer, which runs the dashboard controlling the enemy unit. In this simulation, decision making is also distributed with sensor fusion agents (that determine environment state from sensor data) residing on the world server, and decision-making agents (that exploit knowledge of environment state information to make decisions) residing on the perimeter defense computer.
Professor Azad Madni is the Executive Director of the Systems Architecting and Engineering Program and Professor of Astronautical Engineering in the University of Southern California. He is also the Director of USC's Distributed Autonomy and Intelligent Systems (DAIS) Laboratory. He has a courtesy joint appointment in the schools of Education and Medicine.

Dr. Madni conducts research in probabilistic model-based and machine learning approaches in engineering complex systems. His specific areas of research are engineered resilient systems, distributed autonomy and intelligent systems. His research sponsors include DoD-SERC, DARPA, DHS S&T, DTRA, OSD, MDA, ONR, NAVAIR, NAVSEA, SPAWAR, AFOSR, AFRL, ARI, ARL, RDECOM, CECOM, DOE, NIST, NASA, Boeing, Raytheon, Northrop Grumman Corporation, General Motors, SAIC, and Lockheed Martin Orincon.

An elected Fellow of AAAS, AIAA, INCOSE, IEEE (Life), IETE (Life), and SDPS (Life), a few of Dr. Madni's noteworthy awards in 2019 include AIAA/ASEE Leland Atwood Award, INCOSE Founders Award, ASME CIE Distinguished Leadership Award, and Engineers' Council William B. Johnson International Inter-Professional Founders Award. He is also the recipient of the 2011 INCOSE Pioneer Award, IEEE SMC Award for leading the most active Systems Science and Engineering Technical Committee (MBSE), the 2006 SDPS C.V. Ramamoorthy Distinguished Scholar Award, and many more.

Additionally, Dr. Madni is the founder, CEO and chief scientist of Intelligent Systems Technology Inc, an award-winning high-tech company that he founded 25 years ago to pursue research in modeling and simulation technologies for education, training and performance support.

He received his B.S., M.S., and Ph.D. in Engineering from the University of California, Los Angeles, in 1968, 1971 and 1978, respectively. He is also a graduate of the AEA/Stanford Executive Institute program for senior executives. He is listed in Who's Who in Science and Engineering, Who's Who is Industry and Finance and Who's Who in America.