SERC TALKS: "What is the role of a Reference Architecture in research and development of autonomous and/or cooperative systems?"
Wednesday, October 2, 2019 @ 1:00 pm

-

2:00 pm

EDT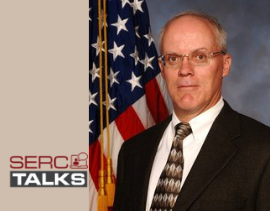 Speaker: Dr. David R. Jacques, Lt-Col (USAF-Ret), Professor of Systems Engineering, Air Force Institute of Technology | CONTACT
Abstract
The Autonomy and Navigation Technology (ANT) Center at the Air Force Institute of Technology (AFIT) has begun development of a new Reference Architecture for Autonomy to begin to answer the myriad of needs within research, development and testing of autonomous and/or cooperative systems. This Reference Architecture will initially cater to small unmanned aerial and ground vehicles and the interfaces and operators that would be used to direct these vehicles in accomplishing tasks. The framework should be flexible to allow achievement of effective mission capabilities with autonomous and cooperative agents. The framework will consist of hardware and software models and documentation that will enable researchers to develop focused autonomy capabilities in a stable and comparable testbed, with the intention of accommodating both simulated and real world flight test where appropriate. The Reference Architecture will facilitate reuse of hardware/software components, thus allowing accelerated design-build-test cycles and progress towards greater capabilities from autonomous/cooperative agent systems. The first spiral will focus on multi-vehicle aerial/ground missions and include several mission templates that exercise a range of human-autonomy interactions.
Dr. David Jacques is a Professor of Systems Engineering within the Department of Systems Engineering and Management at the Air Force Institute of Technology (AFIT). Dr. Jacques joined the AFIT faculty as a military member in 1999 and became a civilian faculty member in 2004 upon retirement from active duty in the Air Force. In prior military assignments he served in various capacities associated with development planning, research and development, developmental test, and intelligence analysis of foreign weapon systems. Within SERC, Dr. Jacques leads the AFIT efforts within the long standing "Systems Qualities Ontology, Tradespace, and Affordability (SQOTA)" research project, a now 7 year effort uniting nine of the SERC Collaborating Universities. Dr. Jacques' research interests include effectiveness of wide area search systems, cooperative behavior and control of Unmanned Air Vehicles (UAVs) and munitions, and early application of Systems Engineering for concept definition and requirements definition.

Reflecting the interdisciplinary nature of his research interests, his thesis advisement at AFIT has spanned seven academic programs and two academic departments. As a faculty researcher, he has served as a principal investigator on 32 funded research proposals at AFIT, and collaborated on 28 others. The total value of these 60 proposals is approximately $4.7 million in external funding. The research projects Dr. Jacques has been involved in have addressed critical problems and applications spanning the DOD and other government agencies. To date he has documented his research results in 26 archival journal publications, seven book chapters, one Systems Engineering case study, four magazine articles, 61 refereed conference papers, and numerous technical presentations and invited talks. Dr. Jacques is also an AFIT alum, earning his master's degree in Aeronautical Engineering in 1989 and his PhD in Systems Engineering in 1995.