SERC TALKS: "What did I do wrong? An episode on Agile Anti-Patterns"
Wednesday, April 10, 2019 @ 1:00 pm

-

2:00 pm

EDT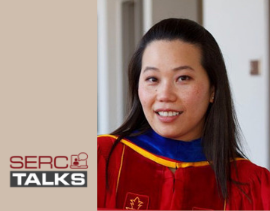 Speaker:  Dr. Supannika "Sue" K. Mobasser, Associate Director in the Software Systems and Acquisition Department, The Aerospace Corporation | CONTACT
Abstract
With the adoption of Agile have started to be a viable option as evidenced in several large scale and mission critical programs, the challenges of Agile adoption have started to show up as well. This talk will share observations on Agile adoption anti-patterns or bad practices on agile planning, backlog management, architecture and design, testing, teaming, and project management.
Dr. Mobasser's research interest areas are Agile and Lean Software Development, Expediting Systems Engineering, Software Process Improvement, Software Process Quality Assurance, and Software Metrics and Measurement. She is a certified Scrum Master, a certified Scrum Product Owner, and a certified SAFe Agilist. She received her PhD in Computer Science from the University of Southern California in 2010. Prior to this, she was a lecturer and a researcher at the University of Southern California's Center for Systems and Software Engineering and a RUP/OpenUp Content Developer at IBM Software Group.
NOTE TO PARTICIPANTS: 
SERC Talks are now broadcast using the Zoom Webinar Platform. Prior to the SERC Talk, we encourage all participants to install and test the platform.
Zoom Installation | Troubleshooting Guide
More information on future SERC Talks can be found here. Thank you!