SERC TALKS: "How are Digitalization and AI Driving Improvements in Healthcare Delivery?"
June 16 @ 1:00 pm

-

2:00 pm

EDT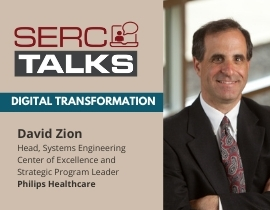 Speaker: David Zion, Head, Systems Engineering Center of Excellence, Strategic Program Leader, Philips Healthcare | CONTACT
Abstract
This presentation examines the progression of health systems from individual diagnostic and treatment devices to connected systems and solutions. The transformation of health care delivery has changed the needs and key performance indicators that clinicians and hospital leaders use to measure success. To succeed with healthcare innovation today, new technologies must come with new business models and outcome-based incentives, aligned across all stakeholders; with collaboration based on shared objectives and risks. Hospitals want medical device providers to be integrators and brokers of technology, helping healthcare providers to embed third-party apps and devices into their workflow via a common underlying deployment platform. Patients now play a more central role in their own care decisions. Whereas the Electronic Medical Record (EMR) has created a system of record to keep track of clinical decisions and to support billing, it does not yet fulfill the need of optimally connecting staff and patients, or enabling dynamic workflows and seamless user experiences. A system of engagement, which connects and interprets patient data from various sources to support caregivers with relevant insights at the point of care will help both care givers and patients alike with better delivery of healthcare.
David Zion is currently a Strategic Program Leader at Philips Healthcare, a health technology company dedicated to improving people's health and well-being through meaningful innovation, aiming to improve 2.5 billion lives per year by 2030, including 400 million in underserved communities. David has spent over twenty years in Ultrasound System Research and Development, leading teams in transducer design, software and hardware engineering, and program management. While leader of the global Ultrasound R&D team, David drove the significant expansion of the product offerings in Cardiology and Radiology, as well as new Point-of-Care applications, utilizing highly integrated systems design to deliver first-to-world high performance portable Ultrasound solutions. In 2018, he founded and now leads the Systems Engineering Center of Excellence at Philips, a team dedicated to deploying best practices in all aspects of the architecture, modelling, design, integration, and life-cycle management of a diverse set of products and solutions delivered to customers across the globe. Prior to working in the Philips Ultrasound business, he has worked in the Automated Test, Defense Electronics, and Telecommunications industries, delivering multiple products into production with specific focus on design-for-test and design-for-service methodologies. He holds a Bachelor's Degree in Electrical Engineering and Computer Science from MIT and a Master's Degree in Engineering Economic Systems from Stanford University.
Speaker: David Zion, Head, Systems Engineering Center of Excellence, Strategic Program Leader, Philips Healthcare | CONTACT
This Talk is free to the public and all are welcomed to join and participate in this open discussion. The recording of this Talk will be available on the SERC YouTube channel a few days following the event. Those who registered for the Talk will receive the announcement regarding this release. If you have any questions regarding joining this session, please contact the SERC Talks webinar coordinator, Ms. Mimi Marcus. Please register for meeting details.
NOTE TO PARTICIPANTS: SERC Talks broadcasts using the Zoom Webinar Platform. Prior to the SERC Talk, we encourage all participants to install and test the platform to exercise full virtual capabilities. Installation is NOT required to join the session, as Zoom is accessible via web browser.
Zoom Installation | Zoom Web Client | Troubleshooting Guide
More information on all SERC Talks can be found here. Thank you!