SERC TALKS: "How Can We Systems Engineer Trust into Increasingly Autonomous Cyber-Physical Systems?"
Wednesday, February 5, 2020 @ 2:00 pm

-

3:00 pm

EST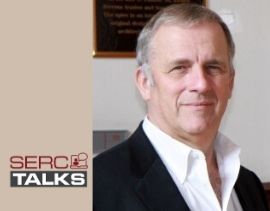 Speaker: Dr. Joseph Mitola III, Fellow of the IEEE, Chief Technologist, ENSCO Aerospace Sciences and Engineering Division (ASE) | CONTACT
Abstract
One of the primary inhibitors of trust in autonomous and cyber-physical systems is the likelihood that any such computer-based systems may be infiltrated and manipulated by a malicious entity. We can systems engineer trust into such systems if we start with an in-depth understanding of the mathematical structure of the hardware and software. We then can migrate the computing from register-based CPUs with operating systems to pure dataflow based networked computing. Internal self-knowledge and constraints then can be trusted to limit autonomy and to protect cyber-physical systems from operating outside of the specified physical envelope. This talk will review the mathematics and provide a perspective of networked computing for the emerging discipline of cyber-physical systems engineering.
Dr. Joseph Mitola III is a Fellow of the IEEE, Chief Technologist of the ENSCO Aerospace Sciences and Engineering Division (ASE). With over 15,000 citations in Google Scholar, Dr. Mitola is recognized globally for his seminal contributions to Software Defined Radio (SDR) and Cognitive Radio. His career has included years with the US DoD, ITT Corp, E-Systems (now Raytheon), Harris Corp, The MITRE Corporation, an Artificial Intelligence Startup company, Stevens Institute of Technology and Virginia Tech. He has served as program manager at DARPA and as Special Assistant to the Director of DARPA and US Special Operations Command for the Global War on Terror. For the past decade he has focused on hardware-defined cybersecurity. At ENSCO ASE he supports the US Space Force as Chief Cyber Architect for the Ranges and Networks Systems Engineering and Integration program.
NOTE TO PARTICIPANTS:
SERC Talks broadcasts using the Zoom Webinar Platform. Prior to the SERC Talk, we encourage all participants to install and test the platform to exercise full virtual capabilities. Installation is NOT required to join the session, as Zoom is accessible via web browser.
Zoom Installation | Zoom Web Client | Troubleshooting Guide
More information on future SERC Talks can be found here. Thank you!