7th Annual SERC Doctoral Students Forum
November 18 @ 12:30 pm

-

6:00 pm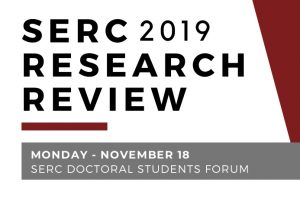 Monday, November 18, 2018
12:30 pm – 6:00 pm
Hosted by: FHI 360 Conference Center
1825 Connecticut Avenue, NW, 8th Floor
Washington, DC 
20009
The SERC Doctoral Students Forum (SDSF) is part of a two day SERC Research Review, which provides an opportunity for doctoral students conducting highly relevant, systems engineering-related research at any of the SERC collaborating universities to present their research in an open forum. This half-day session drives high impact by exposing the attendees to research that they may not have otherwise encountered. Students can present regardless of whether or not the research was conducted through a SERC initiative.
To be considered to present at the SERC Doctoral Students Forum, as well as for the Best Student Presentation Award,  a faculty member from one of the SERC Collaborating Universities needs to nominate a doctoral student via the SERC Doctoral Student Presentation Nomination Form by Friday, August 30, 2019. Completed forms are to be submitted to Kara Pepe, Manager of SERC Operations.  The Best Student Presentation is awarded on the basis of potential impact, advancement to systems engineering, originality, technical content, and clarity of presentation. The winner will be selected at the conclusion of the Forum and announced at the SERC Sponsor Research Review the following day. The winner will receive a trophy and a monetary grant. Congratulations to last year's SERC Doctoral Student Forum – Best Student Presentation recipient, Jorge Buenfil, from Stevens Institute of Technology.
Events are free to SERC Collaborators and Government participants; Non-SERC Universities, FFRDCs, National Laboratories and Industry attendees are charged a nominal fee. A networking reception, open to all, with heavy hors d'oeuvres will follow the event at 6PM.
For more event information, please contact Ms. Monica Brito.