11th Annual SERC Sponsor Research Review (SSRR)
November 19 @ 8:00 am

-

5:00 pm
Event Navigation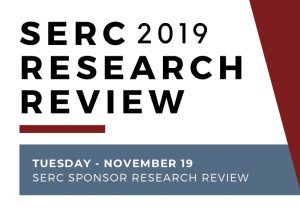 Tuesday, November 19, 2019
8:00 am – 5:00 pm
FHI 360 Conference Center
1825 Connecticut Avenue, NW, 8th Floor
Washington, DC 20009
The SERC Sponsor Research Review unites the government, industry, and academic systems engineering research community in order to share research progress and discuss the most challenging systems engineering issues today. In our two day event, of which the SERC Sponsor Research Review spans the second day, the review highlights over twenty ongoing SERC research projects. Researchers from the SERC universities discussed their research, highlighted results, and described opportunities for government agencies to sponsor and/or participate in their projects. Several of these research projects are ready for pilot use and transition to practice.
Attendance is open to government, Federally Funded Research Development Centers (FFRDCs), national laboratories, industry, and academic institutions. Events are free to SERC Collaborators and Government participants; Non-SERC Universities, FFRDCs, National Laboratories and Industry attendees are charged a nominal fee. 
For more event information, please contact Ms. Monica Brito.