EVENT DETAILS
This two-day event unites the government, industry, and university systems engineering research community in order to share research progress and discuss the most challenging systems engineering issues facing the Department of Defense (DOD) as well as other federal departments and agencies.
LOCATION
FHI 360 Conference Center
1825 Connecticut Avenue, NW
8th Floor
Washington, DC 
20009
DAY 1   |   9:30 AM – 6:00 PM
SYSTEMS THINKING WORKSHOP
SystemiTool is a systems thinking method and tool for mapping complex systems using "Systemigrams." This workshop will introduce the newly updated SystemiTool, as well as a look back over the past 30 years at systems thinking and Systemigrams.
NOTE: Registration for this workshop will be limited to the first 40 seats. Workshop attendees should bring their personal laptop in order to explore the full aspect of this tool. 

SERC DOCTORAL STUDENTS FORUM
The SERC Doctoral Students Forum (SDSF) provides an opportunity for SERC Doctoral Fellows and other doctoral students conducting highly relevant, systems engineering-related research at any of the SERC collaborating universities to present their research in an open forum.
Day 1 will come to a close with an Evening Reception at 6:00 pm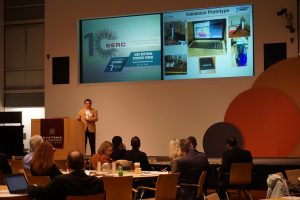 DAY 2   |   8:00 AM – 5:00 PM
SERC SPONSOR RESEARCH REVIEW
The SSRR program and sessions focus on the latest research results from SERC researchers aligned with emerging and critical sponsor research needs.
Program tracks include:
Mission Engineering
Digital Engineering Transformation
AI/Autonomy and Systems Engineering
System Security Engineering
System Engineering for Velocity
Human Capital Development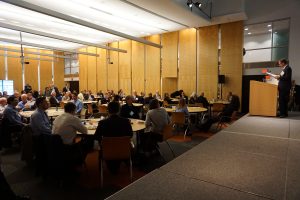 SPEAKERS
Sandra H. Magnus, Ph.D
Deputy Director for Engineering within the Office of the Under Secretary of Defense for Research and Engineering
Dr. Sandra H. "Sandy" Magnus is the Deputy Director for Engineering within the Office of the Under Secretary of Defense for Research and Engineering.  She serves as the DoD's Chief Engineer for Advanced Capabilities.  In this role, she is the lead for engineering policy, practice, and the DoD engineering workforce, as well as digital engineering and systems of systems engineering initiatives.  She leads mission integration management, independent technical risk assessments, and program planning and execution.
Dr. Magnus is a recipient of the NASA Space Flight Medal and the NASA Exceptional Service Medal, among other awards.
Dr. Magnus received a bachelor of science in physics and a master of science in electrical engineering from the Missouri University of Science and Technology.  She received a Ph.D. in engineering from the School of Materials Science and Engineering at Georgia Institute of Technology in 1996.
Kenneth M. Ford, Ph.D
Founder and Chief Executive Officer, Florida Institute for Human & Machine Cognition (IHMC)
Kenneth Ford is Founder and Chief Executive Officer of the Florida Institute for Human & Machine Cognition (IHMC) — a not-for-profit research institute located in Pensacola, Florida. IHMC has grown into one of the nation's premier research organizations with world-class scientists and engineers investigating a broad range of topics related to building technological systems aimed at amplifying and extending human cognition, perception, locomotion and resilience. Richard Florida has described IHMC as "a new model for interdisciplinary research institutes that strive to be both entrepreneurial and academic, firmly grounded and inspiringly ambitious." IHMC headquarters are in Pensacola with a branch research facility in Ocala, Florida.
Wouter Leibbrandt, Ph.D
Science and Operations Director of ESI
Wouter Leibbrandt is Science and Operations Director of ESI, an industry and academia sponsored research center hosted by TNO. ESI focusses on the development of novel methodologies, often model-based, for design and engineering of increasingly complex high-tech (embedded) systems. It does so in strong partnership and close collaboration with leading high-tech companies such as ASML, Philips, Thales, NXP, Océ, Thermo-Fisher and Nexperia as well as with leading academic groups in the Netherlands and across Europe. Themes are: digital twin, big data in high-tech systems, impact of AI and systems of systems.
Until early 2016 Wouter was with NXP Semiconductors for 10 years, where he managed the Advanced Applications Lab, investigating new application concepts around future advanced silicon products, driving secure connections for a smarter world. Before joining NXP, he was with Philips Research labs for 14 years, managing a variety of projects and departments. From 2004 to 2006 he lived and worked in China, at the Philips Research labs in Shanghai.
He serves in advisory roles to several academic departments and curricula and is on the steering board of the European ARTEMIS Industry Association. Wouter holds a PhD in physics from Utrecht University.
Courtyard by Marriott Washington, DC/Dupont Circle
1900 Connecticut Ave NW, Washington, DC 20009
A hotel block has been secured at the Courtyard Marriott Dupont Circle.
The discounted rate will be available until October 14.