AI4SE and SE4AI Workshop
Wednesday, October 20, 2021

-

Thursday, October 21, 2021

Sponsored & organized by U.S. Army DEVCOM Armaments Center (AC) Systems Engineering Directorate and Systems Engineering Research Center (SERC)

The objective of this workshop was to bring together key stakeholders from across industry, government and academia to explore specific outcomes that resulted from the initial 2020 meeting. The agenda for the October 2021 workshop was developed with the intention to curate panel discussions and facilitate group breakout sessions that produce actionable applications of Artificial Intelligence for Systems Engineering (AI4SE) and Systems Engineering for Artificial Intelligence (SE4AI) as well as relevant research ideas that align with DEVCOM AC and SERC AI/SE priorities.
AI/ML Technology Evolution

 

Augmented Intelligence, Cognitive Assistants and Decision Aiding Tools
Theoretical Foundations of Automation & Human-Machine Teaming

 

Augmented Engineering, Using AI to Augment Engineering Design

 

Digital Engineering Infrastructure and Methods in Support of AI
Advances in Explainable AI

 

Advances to Address Cognitive Bias in AI

 

Uncertainty Quantification and Relation to Safety Boundaries in AI
V&V and T&E of Learning Based Systems

 

Applications of Digital Twins to Improve Machine Learning
Data Collection and Curation for AI in Cyberphysical Systems
AI/ML Applications That Address Complexity of Creating, Editing, and Annotating Models
Workforce Development for AI4SE/SE4AI
Other Current Applications of AI and ML for SE

 

Other Current Applications of SE for AI and ML
Keynotes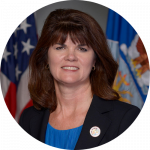 Dr. Mica Endsley - President, SA Technologies
Dr. Mica Endsley is President of SA Technologies and is the former Chief Scientist for the US Air Force. She has also held the positions of Visiting Associate Professor at MIT in the Department of Aeronautics and Astronautics and Associate Professor of Industrial Engineering at Texas Tech University. She was formerly an Engineering Specialist at the Northrop Corporation. Dr. Endsley is a Fellow and Past-President of the Human Factors and Ergonomics Society. She received a Ph.D. in Industrial and Systems Engineering from the University of Southern California. Dr. Endsley is a recognized world leader in the design, development and evaluation of systems to support human situation awareness (SA) and decision-making, and the integration of humans and automation. She has authored over 200 scientific articles and is the co-author of Analysis and Measurement of Situation Awareness and Designing for Situation Awareness.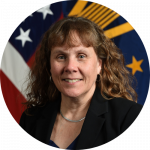 Ms. Stephanie Possehl - Acting Deputy Director for Engineering and Director for Engineering Policy and Systems, OUSD(R&E)
Ms. Stephanie Possehl is the Acting Deputy Director for Engineering (DD, ENG) and Director of Engineering Policy and Systems within the Office of the Under Secretary of Defense for Research and Engineering.  She is serving as the Department of Defense's Chief Engineer for Advanced Capabilities.  She sets engineering policy for the DoD with a focus on embracing modern engineering best practices and driving technical rigor.  She also leads DoD-wide communities of practice dedicated to advancing engineering practice and championing efforts such as digital engineering, modular open systems approach, and many traditional specialty engineering focus areas.  She leads mission integration management and supports Major Defense Acquisition Programs through engineering and test assessments.  She is the functional leader for the Engineering & Technical Management and Test & Evaluation acquisition workforces.  She also has responsibility for the Joint Hypersonics Transition Office and Strategic Intelligence Analysis Cell.
Ms. Possehl has more than 25 years of Federal service with the Department of Defense, including program management positions with the Missile Defense Agency (MDA) supporting Aegis Ballistic Missile Defense and the Sea-Based Terminal program.  Before joining MDA, she taught senior-level program management and systems engineering courses at the Defense Acquisition University.  Her previous engineering and project management assignments were in support of the U.S. Navy STANDARD Missile Program Office and the Naval Surface Warfare Center/Dahlgren Division.  She began her career as a contractor providing engineering support to DoD programs.
Ms. Possehl holds a bachelor of science in mechanical engineering and a master of science in technology management, both from the University of Maryland.  She is a member of the Acquisition Professional Community and is DAWIA Level 3 certified in Program Management and Engineering.  She received the MDA Medal for Exceptional Civilian Service (2020), Navy Superior Civilian Service Award (2018), and Navy Meritorious Civilian Service Award (2015).
Executive Hosts:
Dr. Dinesh Verma – SERC Executive Director, Stevens Institute of Technology
Dr. Jason Cook – US Army DEVCOM Armaments Center
Dr. Dan DeLaurentis– SERC Chief Scientist, Purdue University