SERC Workshop: Model Based System Assurance
Wednesday, December 6, 2017

-

Thursday, December 7, 2017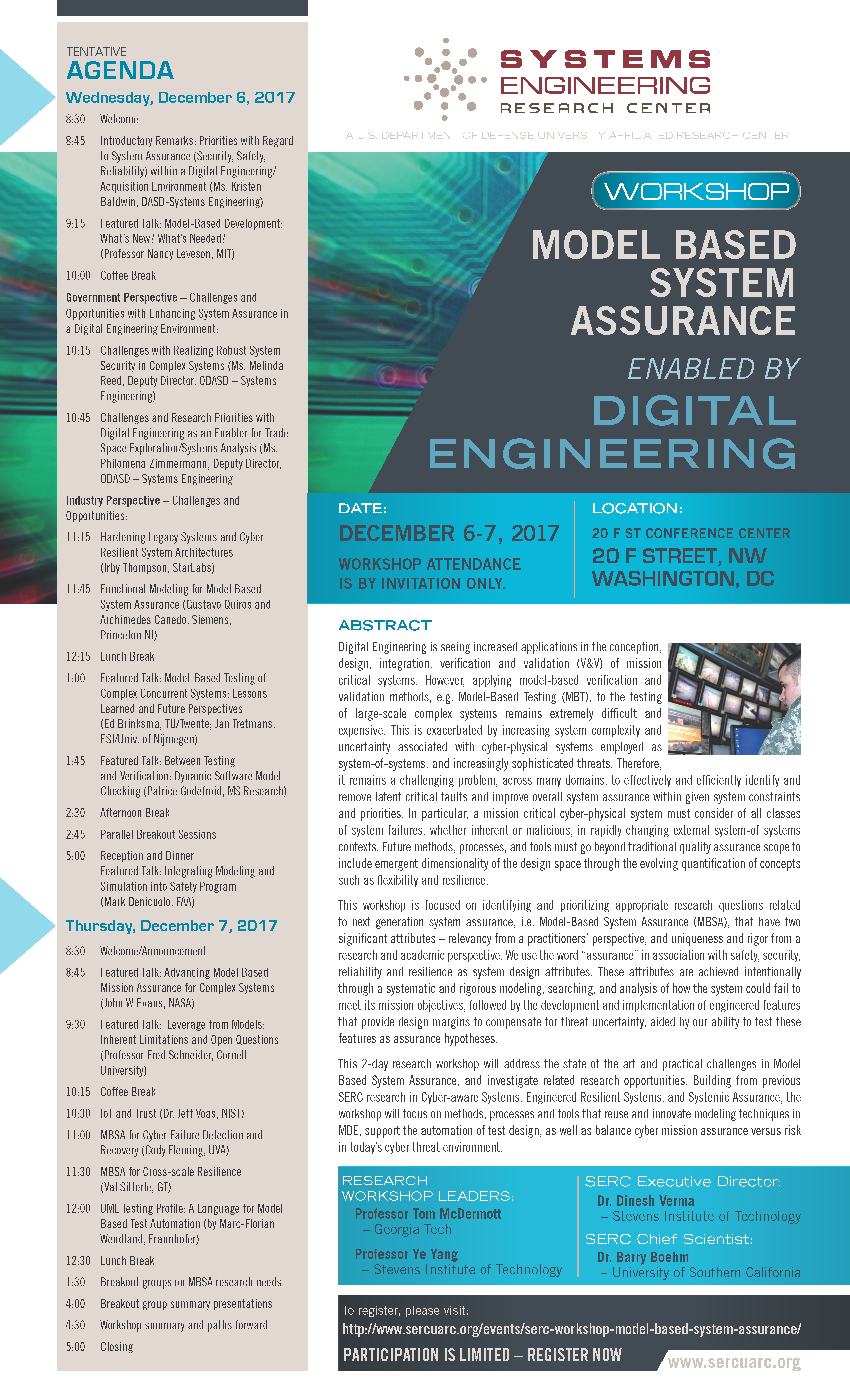 The SERC is hosting a Workshop on "Model Based System Assurance" from December 6-7, 2017 at Washington DC. Workshop attendance is by invitation only, with attendance limited to 70 delegates.
Research Workshop Leaders:
Abstract: Model-Based Engineering (MBE) is seeing increased applications in the conception, design, integration, verification and validation (V&V) of mission critical systems. However, most current model based formal verification and validation methods, e.g. Model-Based Testing (MBT), remain focused on system components and have limited scalability and applicability to testing of large system behaviors. Today there is increasing system complexity and uncertainty associated with cyber-physical systems employed as system-of- systems, and increasingly sophisticated threats. It remains a challenging problem to effectively and efficiently identify and remove latent critical faults and improve overall system assurance within given system constraints and priorities, for both researchers and practitioners, across many domains. In particular, a mission critical cyber-physical system must consider of all classes of system failures, whether inherent or malicious, in rapidly changing external system-of systems contexts. Future methods, processes, and tools must go beyond traditional quality assurance scope to include emergent dimensionality of the design space through the evolving quantification of concepts such as flexibility and resilience.
This workshop is focused on identifying and prioritizing appropriate research questions related to next generation system assurance, i.e. Model-Based System Assurance (MBSA), that have two significant attributes – relevancy from a practitioners' perspective, and uniqueness and rigor from a research and academic perspective. We use the word "assurance" in association with safety, security, reliability and resilience as system design attributes. These attributes are achieved intentionally through a systematic and rigorous modeling, searching, and analysis of how the system could fail to meet its mission objectives, followed by the development and implementation of engineered features that provide design margins to compensate for threat uncertainty, aided by our ability to test these features as assurance hypotheses.
This 2-day research workshop will address the state of the art and practical challenges in Model Based System Assurance, and investigate related research opportunities. Building from previous SERC research in Cyber-aware Systems, Engineered Resilient Systems, and Systemic Assurance, the workshop will focus on methods, processes and tools that reuse and innovate modeling techniques in MDE, support the automation of test design, as well as balance cyber mission assurance versus risk in today's cyber threat environment.
Edit

Time

Topic

Lead

8:30
Welcome
Prof. Tom McDermott, GaTech

8:45
Introductory Remarks: Priorities with regard to System Assurance (Security, Safety, Reliability) within a Digital Engineering/Acquisition Environment
Ms. Kristen Baldwin
DASD, Systems Engineering
9:15
Featured Talk: Model-Based Development: What's New? What's Needed?
Professor Nancy Leveson, MIT
10:00
Coffee Break

Government Perspective – Challenges and Opportunities with Enhancing System Assurance in a Digital Engineering Environment:

10:15
Challenges with Realizing Robust System Security in Complex Systems
Ms. Melinda Reed
Deputy Director, ODASD – Systems Engineering)
10:45
Challenges and Research Priorities with Digital Engineering as an enabler for Trade Space Exploration/Systems Analysis
Ms. Philomena Zimmermann,
Deputy Director, ODASD – Systems Engineering

Industry Perspective – Challenges and Opportunities:

11:15
Hardening Legacy Systems and Cyber Resilient System Architectures
Mr. Irby Thompson, StarLabs
11:45
Functional Modeling for Model Based System Assurance
Download Slides
Dr. Gustavo Quiros and Dr. Archimedes Canedo
Siemens, Princeton NJ)
12:15
Lunch Break
13:00
Featured Talk: Model-Based Testing of Complex Concurrent Systems: Lessons Learned and Future Perspectives
Dr.Ed Brinksma, TU/Twente, and
Mr. Jan Tretmans, ESI and the University of Nijmegen
13:45
Featured Talk: Between Testing and Verification: Dynamic Software Model Checking
Patrice Godefroid, Microsoft
14:30
Afternoon Break
14:45
Parallel Breakout Sessions
Prof. Tom McDermott, GaTech
Dr. Ye Yang, Dr. Lu Xiao, Stevens
17:00
Reception and Dinner
Featured Talk: Integrating Modeling and Simulation into Safety Program
Mr. Mark Denicuolo, FAA
Edit

Time

Topic

Lead

8:30
Welcome/Announcement
Dr. Ye Yang, Stevens
8:45
Featured Talk: Advancing Model Based System Assurance for Complex Systems
Dr. John W Evans, NASA
9:30
Featured Talk: Leverage from Models: Inherent Limitations and Open Questions
Prof. Fred Schneider, Cornell University
10:15
Coffee Break
10:30
IoT and Trust
Download Slides
Dr. Jeff Voas, NIST
11:00
MBSA for cyber failure detection and recovery
Dr. Cody Fleming, UVA
11:30
MBSA for cross-scale resilience
Dr. Val Sitterle, GaTech
12:00
UML Testing Profile: A Language for Model
Based Test Automation
Mr. Marc-Florian Wendland, Fraunhofer
12:30
Lunch Break
13:30
Breakout groups on MBSA research needs
(With afternoon break at 14:30)

Dr. Tom McDermott, GaTech
Dr. Ye Yang, Dr. Lu Xiao, Stevens
16:00
Breakout group summary presentations
Dr. Tom McDermott, GaTech
Dr. Ye Yang, Dr. Lu Xiao, Stevens
16:30
Workshop summary and paths forward
Dr. Tom McDermott, GaTech
Dr. Ye Yang, Stevens
17:00
Closing
Reminder – this event is by invitation only. Registration does not guarantee participation. Confirmation will be sent by Workshop Organizers by November 15th.