"A BOOTCAMP – Introduction to Ontology for Systems Engineers"
Tuesday, December 5, 2017 @ 8:30 am

-

4:30 pm

EST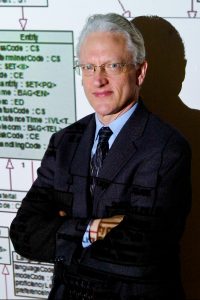 SERC Presents: "A BOOTCAMP – Introduction to Ontology for Systems Engineers" with Barry Smith, taking place on Tuesday, December 5, 2017 at 20 F St NW, Washington, DC 20001. Ontologies and Semantic Web Technologies are key enablers for Model Based Engineering. This bootcamp has been organized to provide the attendees with an introduction to the concept of Ontologies in this context.
Barry Smith is the creator of Basic Formal Ontology (BFO), which is the most commonly adopted upper-level ontology development framework, now used in over 300 civilian and government ontology initiatives throughout the world. Most recently he has contributed to the AFRL Digital Thread/Digital Twin initiative, whose goal is to develop an ontology-driven analytical framework to allow use and re-use of authoritative data from multiple heterogeneous sources to inform decision-makers throughout a system's lifecycle.
Personal Website:  Barry Smith
Google Scholar:  Citations
PhilPapers:  Barry Smith
Academia.edu:  Barry Smith
Edit

Time

Topic

Lead

8:00 AM
Registration & Breakfast
All
8:30 AM
Applied Ontology Background: What ontologies are for
1980s: AI, Robotics
2000s: Biology
2000s: Semantic Web, Common Logic, AI again
Barry Smith
9:15 AM
Top-level and domain ontologies
Building ontologies with Basic Formal Ontology
BFO standards initiatives
A BFO-based ontology of information artifacts
A BFO-based ontology of environmental systems
A BFO-based ontology for materials science
Barry Smith
10:15 AM
Coffee
All
10:30 AM
Domain ontology suites
Toronto Virtual Enterprise (TOVE)
SWEET, and other domain ontology suites
Open Biomedical Ontologies (OBO) Foundry
Common Core Ontologies (CCO)
Joint Doctrine Ontology
AFRL Digital Thread/Digital Twin
Industry Ontologies Foundry (IOF)
Barry Smith
12:30 PM
Lunch
All
1:15 PM
Some building blocks of a systems engineering ontology
Activity
Role
Disposition
Organization
Engineered artifact
Capability
Function
Barry Smith
3:00 PM
Break
All
3:15 PM
Interactive session: Defining 'system'
Barry Smith
4:30 PM
Adjourn
All
Attendance Criteria: Participation was limited to those from the government, Federally Funded Research and Development Centers (FFRDCs), SERC Collaborator Universities, and National Laboratories. Participation was capped at 35 with admission confirmed by workshop organizers. Special thanks again to Dr. Barry Smith as well as all of our participants for making this such a successful workshop.