SERC Workshop: Managing Acquisition and Program Risk
Wednesday, December 13, 2017 @ 8:00 am

-

5:00 pm

EST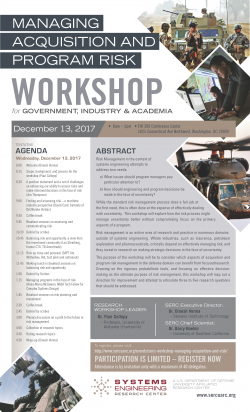 SERC is hosting a Workshop on "Managing Acquisition and Program Risk" which will be held on Wednesday, December 13, 2017 at the FHI 360 Conference Center in Washington DC. Workshop attendance is by invitation only with a maximum of 40 delegates.
Research Workshop Leader:
Dr. Paul Collopy – Professor, University of Alabama – Huntsville; SERC Research Council Member
Abstract: Risk Management in the context of systems engineering attempts to address two needs:  a) What issues should program managers pay particular attention to? and b) How should engineering and program decisions be made in the face of uncertainty?
While the standard risk management process does a fair job at the first need, this is often done at the expense of effectively dealing with uncertainty. This workshop will explore how the risk process might manage uncertainty better without compromising focus on the primary aspects of a program.
Risk management is an active area of research and practice in numerous domains outside of systems engineering. Whole industries, such as insurance, petroleum exploration and pharmaceuticals, critically depend on effectively managing risk, and they invest in research on making strategic decisions in the face of uncertainty.
The purpose of the workshop will be to consider which aspects of acquisition and program risk management in the defense domain can benefit from focused research. Drawing on the rigorous probabilistic tools, and focusing on effective decision-making as the ultimate purpose of risk management, this workshop will map out a direction for improvement and attempt to articulate three to five research questions that should be addressed.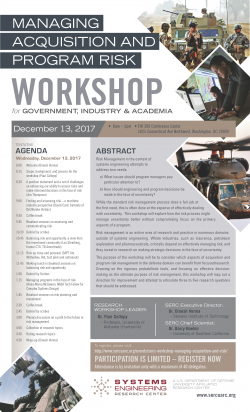 Attendance Criteria: Participation is limited to a maximum of 40 delegates. Workshop organizers will confirm admission to the workshop by November 15th, so register now!