SERC Doctoral Student Forum 2023
November 14 @ 11:00 am

-

5:00 pm

EST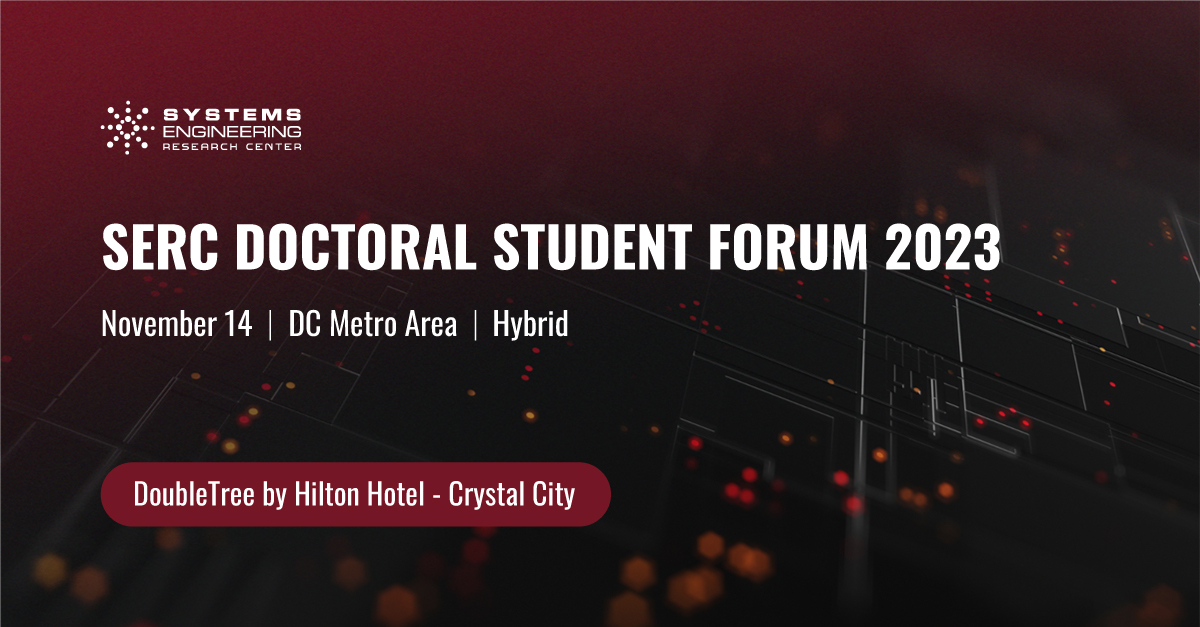 The SERC Doctoral Student Forum (SDSF) will take place on the first day of the two-day SERC Research Review, which provides an opportunity for doctoral students conducting relevant systems engineering-related research at a SERC collaborating university to present their research in an open forum. This session drives impact by exposing attendees to research they may not have otherwise encountered. Students can present regardless of whether or not the research was conducted through a SERC initiative, which also provides our sponsors a view into research taking place throughout the SERC consortium.
This year will mark the second year the 'Dr. Barry Boehm Award for Doctoral Student Research Excellence' will be awarded for the best research presentation delivered by a doctoral student at the SDSF on the basis of potential impact, advancement to systems engineering, originality, technical content, and clarity of presentation. This annual award was renamed in memory of Dr. Boehm, who passed away in 2022. This is a fitting honor for the SERC Research Council Chair and Chief Scientist Emeritus who was a titan in the field and a champion for his students. Congratulations to the inaugural winner, Daniel Herrington from the Naval Postgraduate School.
OCTOBER 6, 2022, by 11:59pm EDT
Abstract Submission Deadline
OCTOBER 27, 2022, by 11:59pm EDT
Poster Deadline
NOVEMBER 3, 2022, by 11:59pm EDT
Presentation Deadline
The SERC is seeking a diverse pool of future leaders in systems engineering to showcase their research to an audience of academia, government, and industry. All doctoral student presenters will be considered for the Dr. Barry Boehm Award for Doctoral Student Research Excellence that includes a small monetary prize. Doctoral students who are selected and accept are expected to submit a poster and present their work. All presentations will be 30 minutes (including Q&A). Work is expected to be presented in person; it will also be broadcast virtually and recorded for open distribution. All materials must be appropriate for public release and materials requiring approvals for public release must be obtained before the stated deadlines.
Submissions are open to students currently enrolled in doctoral programs at SERC collaborating universities*, Minority Serving Institutions, or Historically Black Colleges/Universities. The deadline for submissions is October 6, 2023.
If you have any questions, please contact Ms. Kathleen Tizon.
*The following institutions are eligible to submit: Stevens Institute of Technology, Air Force Institute of Technology, Auburn University, Carnegie Mellon University, George Mason University, Georgetown University, George Washington University, Georgia Institute of Technology, Massachusetts Institute of Technology, Missouri S&T, Naval Postgraduate School, North Carolina A&T State University, North Carolina State University, the Ohio State University, Old Dominion University, Pennsylvania State University, Purdue University, Texas A&M University, University of Alabama in Huntsville, University of Arizona, University of Maryland, University of Massachusetts Amherst, University of Virginia, University of Southern California, University of South Florida, Virginia Tech, Wayne State University and Minority Serving Institutions (MSIs) or Historically Black Colleges/Universities (HBCUs).