SERC Experts Lead Discussions at NDIA Systems and Mission Engineering Conference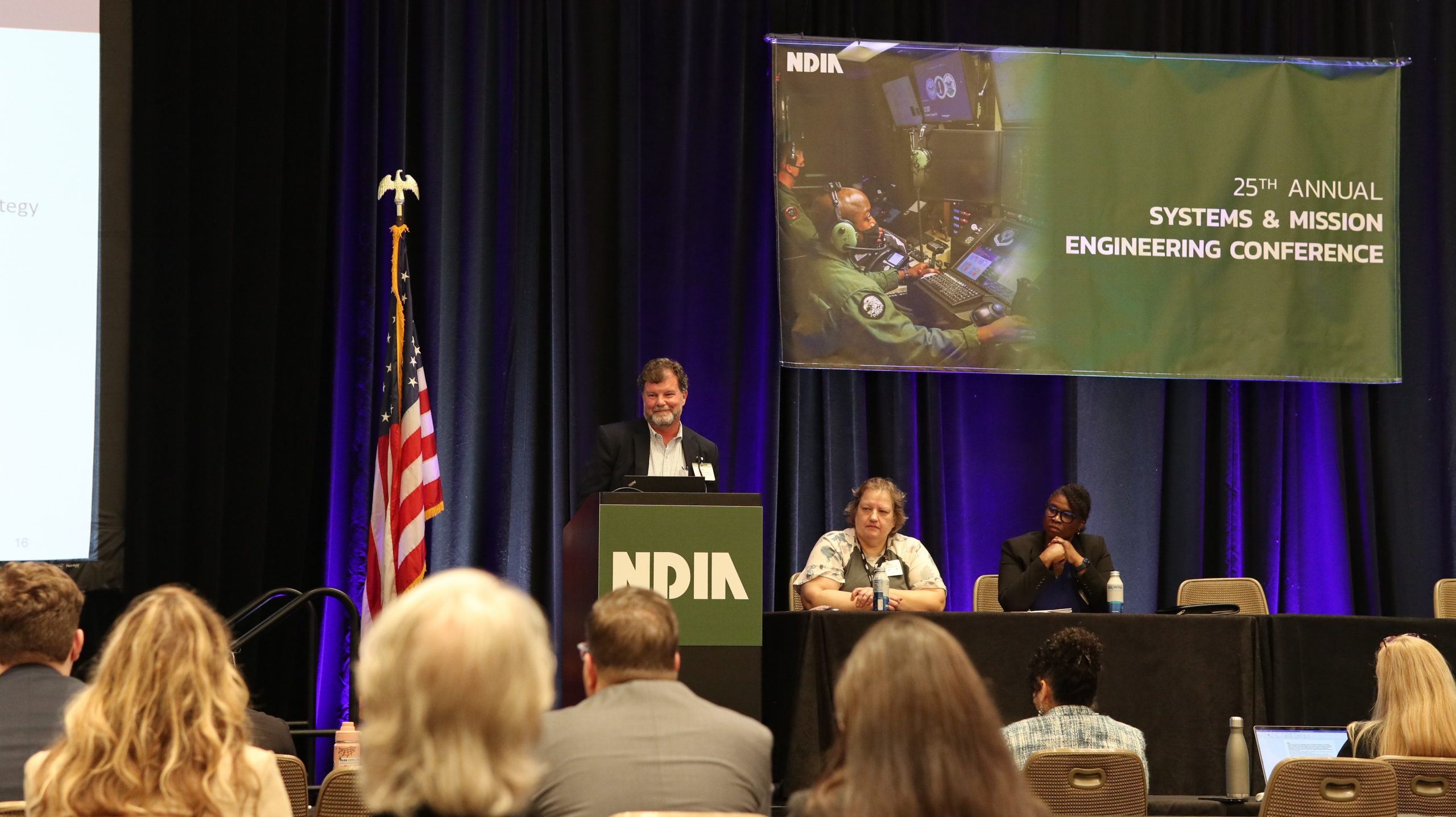 Pictured left to right: Tom McDermott, SERC CTO; Nadine Geier, Director of Systems Engineering, OUSD(R&E); and Dr. Kelly Alexander, Chief Engineer, Systems Engineering Modernization, OUSD(R&E).
SERC expertise was on display during the 25th annual Systems and Mission Engineering Conference of the National Defense Industrial Association (NDIA). The three-day event took place in Orlando on November 1-3.  
The SERC helped sponsor the conference, which "brings together defense community members from industry, government, and academia to highlight ways for improving defense acquisition and system performance." 
"The SME is the largest systems-focused conference for the defense community and provides SERC researchers an excellent opportunity to gather information and build relationships with our sponsors," said SERC Staff Researcher Dr. Nicole Hutchison. "This is also a primary opportunity for us to brief research results to the broader community and identify opportunities for transition of research beyond the original sponsors. Every year, this event helps us strengthen our ties to the broader systems and defense communities." 
On the first day of the conference, Dr. Laura Freeman of the SERC Research Council led a discussion on "Digital Transformation in Support of Test and Evaluation." Freeman, who directs the Hume Center's Intelligent Systems Lab at Virginia Tech, spoke with panelists from the Office of the Under Secretary of Defense for Research and Engineering, OUSD(R&E); the Office of the Director, Operational Test and Evaluation, DOT&E; the Air Force Nuclear Weapons Center; Boeing; Lockheed Martin; and Northrop Grumman.  
The panel focused on the unique position of test and evaluation organizations (T&E) to lead digital transformation, as data is the primary product of T&E. The panelists discussed the current state of the art, barriers to digital transformation, and how T&E can leverage digital transformation. The panelists agreed that people, processes, and tools are key aspects, and that beyond the technical front, a workforce and cultural shift is necessary. Multiple panelists commented that there is resistance in the workforce to using digital engineering to improve efficiency, causing a substantial hurdle to full implementation. 
Hutchison and SERC CTO Mr. Tom McDermott (both of Stevens Institute of Technology) spoke on a panel during the "Mission Engineering/System of Systems" track. Hutchison included the results of the "Digital Engineering Competency Framework" research in her opening remarks while McDermott included the status of systems engineering modernization. The panel discussed mission engineering across the defense community, areas of potential promise, and major challenges. The audience's questions highlighted the community's investment in implementing mission engineering successfully, but also reinforced disconnects between existing acquisition approaches and a more mission-focused acquisition approach. 
The conference included more than 125 presentations that explored topics such as digital systems engineering, human systems integration, integrated risk and opportunity management, software intensive systems, physics-based modeling and simulation, system security engineering, and more. A new theme of the conference was test and evaluation.
Among the SERC researchers who presented, McDermott discussed systems engineering modernization, featuring the recent design of a new lifecycle model. McDermott was joined by Ms. Nadine Geier, Director of Systems Engineering, OUSD(R&E) and Dr. Kelly Alexander, Chief Engineer, Systems Engineering Modernization, OUSD(R&E).  
SERC Chief Scientist Dr. Dan DeLaurentis (Purdue University) presented his research on mission engineering-based portfolio management and developing decision-support tools for improved acquisition outcomes.    
Dr. Michael Orosz (University of Southern California) discussed SERC research with the Space Force on mission engineering methods, analysis, and metrics for transitioning from a traditional software-only acquisition environment to an Agile/DevSecOps environment.  
Doctoral candidate Mr. Daniel Dunbar (Stevens) presented on applying digital threads through digital engineering frameworks to improve integration and interoperability, research he conducted alongside SERC Executive Director Dr. Dinesh Verma, Dr. Thomas Hagedorn, and Dr. Mark Blackburn (all from Stevens). 
Dr. Paul Wach (Virginia Tech) spoke about SERC research to develop a simulation training environment for digital engineering with the Defense Acquisition University. "This presentation was about sharing our experiences, including struggles, with the defense community and soliciting feedback from which we continue to see positive adjustments and confirmation in our trajectory," Wach said.  
Explore related research findings on the SERC website, and follow the SERC on LinkedIn for regular updates.