Dan DeLaurentis, Chief Scientist of the SERC, Joins the Center for Tech Diplomacy (CTDP) at Purdue as a Senior Fellow
Systems engineers and diplomats have something in common. Their day to day functions require that they both design, integrate, and manage a broad array of complex systems including human behavior and governance, technology and the built environment, the natural world and its resources.
Dan DeLaurentis, Chief Scientist of the Systems Engineering Research Center (SERC), Director of the Institute for Global Security and Defense Innovation, and Professor of Aeronautics and Astronautics at Purdue University, joins the Center for Tech Diplomacy (CTDP) at Purdue as a Senior Fellow. Dr. DeLaurentis will bring his expertise to a strategic initiative where systems engineering, technology, diplomacy and U.S. foreign policy intersect.
The Center for Tech Diplomacy at Purdue crystallizes the need for a meeting of minds on advanced technologies, the field that is defining the opportunities, risks and threats to national security and global stability that dominate international diplomacy. As a "tech tank", CTDP recognizes that "[t]here is a gathering, bipartisan appreciation of the linkage between national security, human rights, economic growth, democracy, and liberty with critical technologies. CTDP brings deep engineering expertise to policymakers in an easily understandable way that demonstrates the inextricable links between technology advances and national interests. CTDP additionally provides training on innovation and technology to national security decisionmakers and diplomats."
Founded by Mung Chiang, Executive Vice President and John A. Edwardson Dean of the College of Engineering, Purdue University, CTDP takes the stance that technology must advance freedom. The genesis for the CTDP mission to inform non-technical experts and diplomats on technology comes from Bonnie Glick, its inaugural director and former Deputy Administrator and Chief Operating Officer of the U.S. Agency for International Development.
In his role as an educator DeLaurentis is working to provide usable, context specific knowledge so that diplomats and US foreign emissaries, when speaking with international counterparts, will already know the implications of 5G, hypersonic or other technologies and have touch points for reference when engaging and negotiating with both allies and non-allies alike.
"As systems engineers, we need to provide an integrated, holistic picture of what a particular technology means in the context of that person's interactions with their international counterparts. As the system of interest broadens, we want to provide a meta understanding, or a better spider sense for what is relevant in technology."
As professor of aeronautics and astronautics DeLaurentis is an expert in the advanced technologies of hypersonics, utilized for space exploration and national defensive and offensive systems. On January 20th, in one of CTDP's first training events, DeLaurentis delivered a workshop on "Understanding Hypersonics" for non-technical government professionals.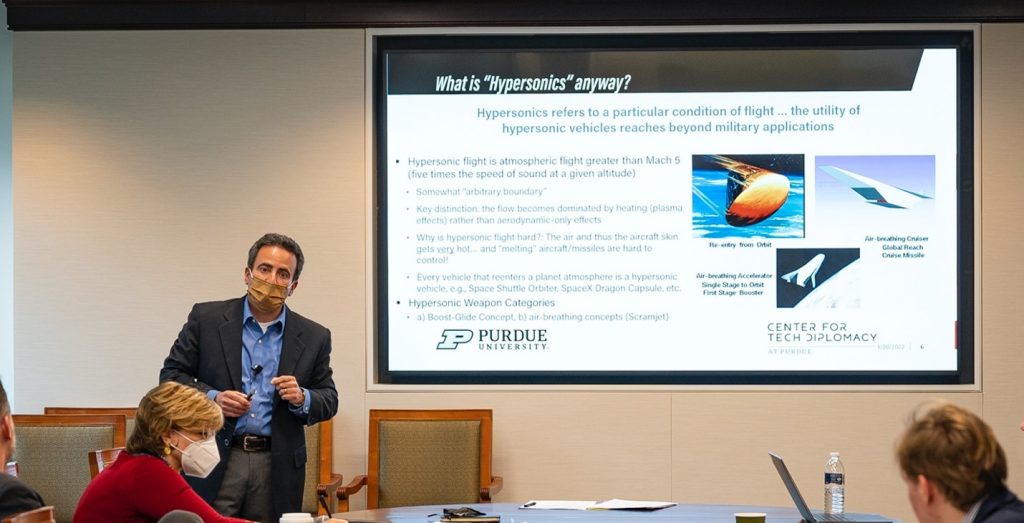 As Chief Scientist at SERC, DeLaurentis notes that every project SERC undertakes is generated by a network of universities with specific purposes, sponsors and well-defined systems of interest. "We try to think about the outcomes of those projects as serving a network of people in the DoD, but ultimately the research needs to help a network of people within the DoD and beyond. So the products need to be communicated such that even someone who's not the direct sponsor of the project can access and gain insight from it."
That integrated and holistic view of the 'system of interest' is what he will deliver in his new role as Senior Fellow at CTDP.