Update: The survey has closed as of February 10, 2021. If you have any questions about the research study, contact Ms. Kaitlin Henderson.
SERC researcher and Virginia Tech Doctoral student Kaitlin Henderson is conducting a research study with co-PI Alejandro Salado on organizational adoption of model-based systems engineering (MBSE) as part of her dissertation work. Building upon their SERC research addressing the need to translate the specific benefits of digital and MBSE to organizational value drivers and success metrics, Henderson and Salado are inviting the broader systems community to participate and contribute through this survey.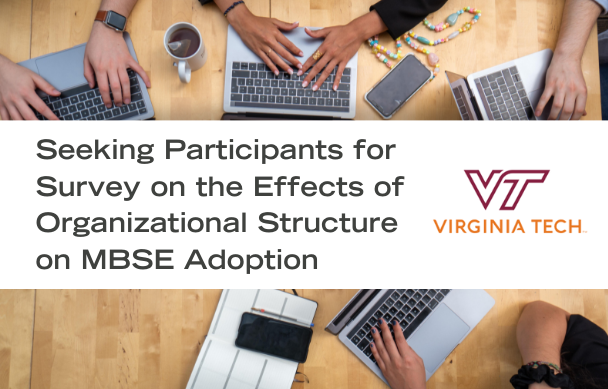 The purpose of this research is to examine the relationship between organizational structure and the adoption of MBSE. The design/structure of an organization has the potential to have a significant impact on the actual process of adopting and implementing MBSE. Determining these effects will provide insights that can be incorporated into the adoption process of MBSE, which is often not well understood.
If you have been part of an organization that has adopted MBSE, please consider supporting this research. If you decide to participate in this study, you will be asked a series of survey style questions about your organization and experience with the adoption of MBSE. The survey should take approximately 20 – 25 minutes and any data collected during this research study will be kept confidential by the researchers.
If you volunteer to be in this study, you may withdraw at any time without consequences of any kind.  You may also refuse to answer any questions you don't want to answer and remain in the study. The investigator may withdraw you from this research if circumstances arise which warrant doing so.  The survey will be open for submissions through February 10th. If you have any questions, please see the attached document for more information.
Download the information sheet to view statement of confidentiality. 
If you have any questions or concerns about the research study, contact Ms. Kaitlin Henderson.  You are not waiving any legal claims, rights or remedies because of your participation in this research study.  If you have questions regarding your rights as a research participant, contact the Virginia Tech HRPP Office at 540-231-3732.
Use the button below if you would like to participate in this survey.  
Survey closes February 10th.