SERC Researchers Support Defense Acquisition University Digital Engineering Credential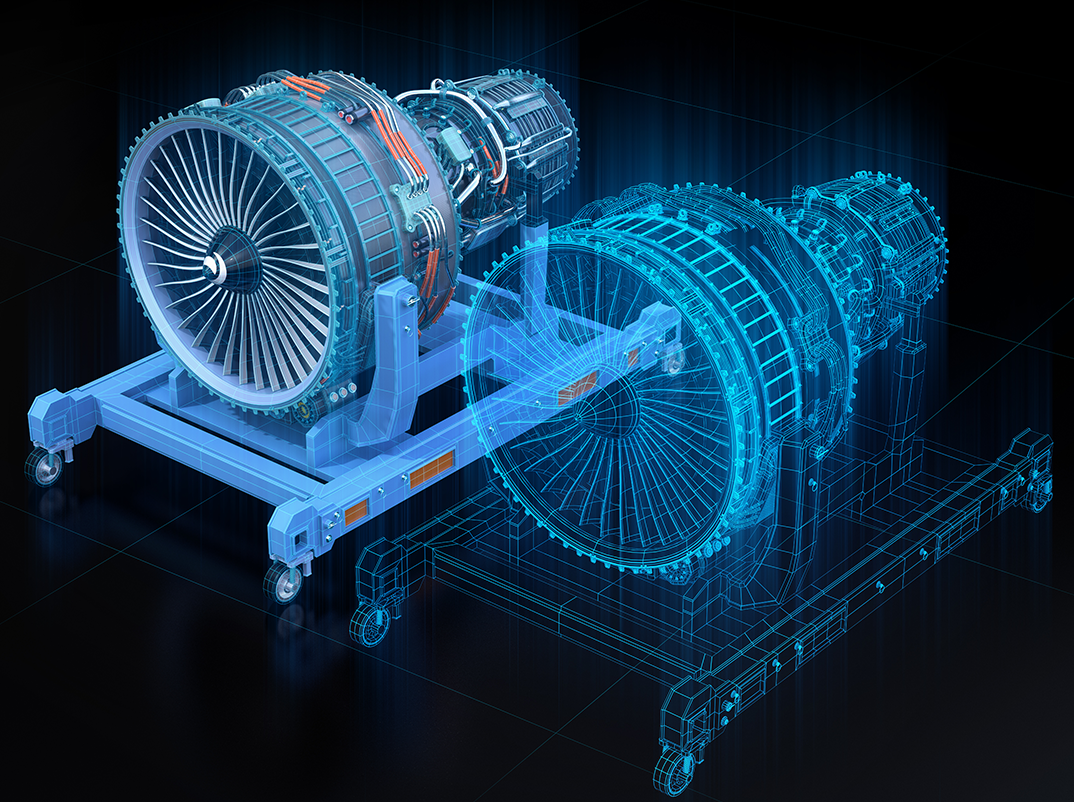 Digital transformation is fundamentally changing the way acquisition and engineering are performed across a wide range of government agencies, industries, and academia. Digital transformation is characterized by the integration of digital technology into all areas of an enterprise, fundamentally changing operations and how results are delivered. Digital transformation is intended to provide new value and requires cultural change centered on alignment across leadership, strategy, operators, developers, designers, customers, and students. 
The publication of the U.S. Department of Defense's (DoD) Digital Engineering Strategy in 2018 formalized the role of digital engineering (DE) and model-based systems engineering (MBSE) as part of the Department's digital transformation strategy. In the DoD, evidence from across the Services and industry has affirmed digital transformation is critical in an environment of increasing global challenges, dynamic threats, rapidly evolving technologies, and increasing life expectancy of systems in operation (Zimmerman et al., 2019). An overview of related systems engineering (SE) modernization research, entitled Does SE Need to be Modernized, and What Might That Look Like?, outlines the precedent and imperative for the DoD to continue to practice systems engineering efficiently and effectively to provide the best advantage for successful acquisitions and sustainment. Digital transformation requires the update of both acquisition and systems engineering practices to take full advantage of the power of digital computation, visualization, and communication throughout both the SE and acquisition lifecycles. This transformation requires fundamental shifts across the Department and in how the defense workforce is prepared and trained for it.
Simulations for Digital Engineering Training
In May 2021, the Defense Acquisition University (DAU) tasked the SERC with developing a "simulation training environment" for DE. The purpose of this research is to develop a simulation environment to enable Defense Acquisition University (DAU) students to enhance their digital literacy through the hands-on application of data and models in their curriculum. 
The Simulation Training Environment for Digital Engineering (STEDE) is intended to provide infrastructure and example case studies that allow DAU students to interact directly with models. STEDE is intended to allow students to navigate models, find information, and use that information to make and capture decisions directly in a modeling environment. The architecture for the STEDE environment is depicted in Figure 1. The architecture supports a body of course materials drawn from three principal sources: case studies; a corpus of learning assets that pulls from the "DE textbook;" and contributions from DAU faculty and the extant DAU curriculum.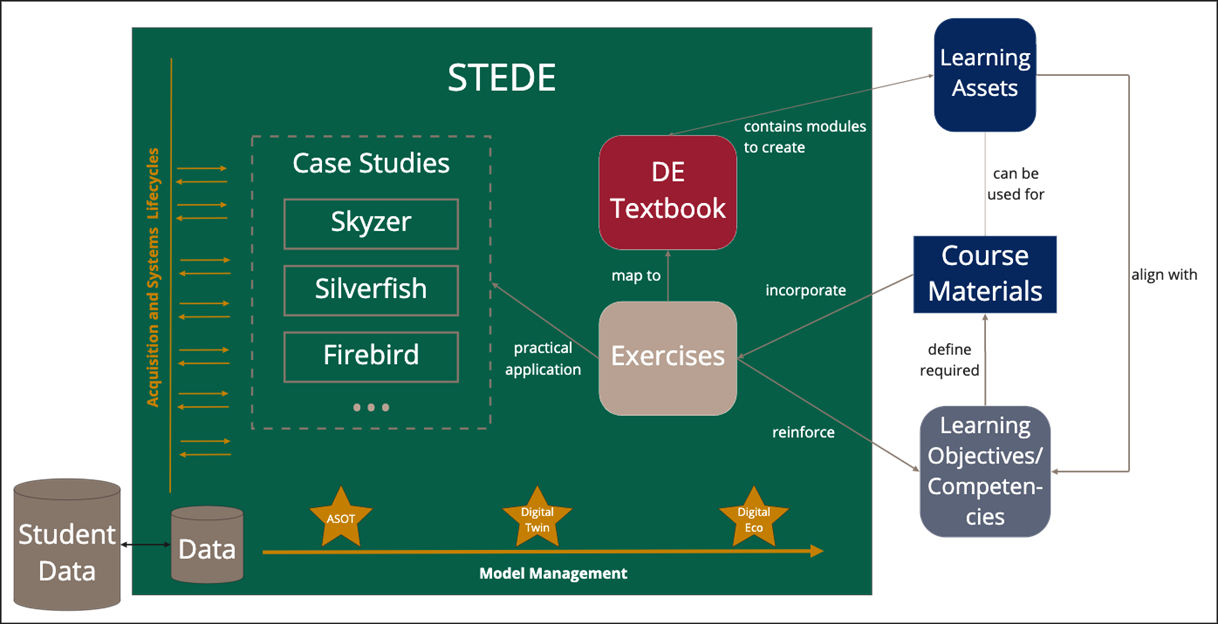 The courses (right) are owned and defined by DAU faculty and hosted within the DAU environment. The SERC team supports the DAU faculty in developing course materials in addition to creating the supporting textbook, and control over the course materials resides with DAU. 
STEDE consists of tools to support case studies and to make exercises that link course materials to case studies readily available. In this context a "case study" is a realistic but fictitious set of system models that can help illustrate critical points about digital engineering. Two current case studies are Skyzer and Silverfish. Developed initially as part of the SERC research portfolio, these models have been updated and will continue to evolve as the work moves forward. They provide extensive examples that have proven utility in both the U.S. Naval Air Systems Command (NAVAIR) and the U.S. Army. The purpose of the case studies is to enable exercises that mimic the real-world conditions that students will face while reinforcing the learning objectives for DAU courses. For example, if an objective is to teach students how to read and interpret specific diagram types, examples can be pulled from these case studies, with interactive questions to gauge the students' understanding. Firebird was created by the Air Force Institute of Technology and is being incorporated into DAU's DE credential. The research team is examining how it can be incorporated into the STEDE environment. 
Another key element of STEDE is the concept of a DE "textbook." The textbook is intended to contain a collection of related modules, each of which focuses on a critical topic for digital engineering. Each module will be self-contained and incorporate information that can be used by DAU faculty in building their courses. A good analogy is the Systems Engineering Body of Knowledge (SEBoK), which has stand-alone articles on a given topic, with links to related topics and references to learn more information. "Textbook" modules may include a text-based overview of the topic, draft slides, videos, and images that help to explain the topic(s), as well as templates or references to several additional resources. 
Finally, the exercises in STEDE are intended to be the "map" that links the case studies to the DE "textbook" and course materials. They are the guided pathway through which students will interact with the case studies to help reinforce learning objectives and gain some hands-on experience during their training. 
 The SERC team, which consists of researchers from Stevens Institute of Technology, Virginia Tech, and the Georgia Tech Research Institute, is integrated with the DAU teams currently developing the curriculum to allow real-time awareness of the sponsor's needs. In addition to the DE research and curriculum support, the team is also supporting DAU's Secure Cyber Resilience Engineering (SCRE) credential. SCRE is supported by STEDE and the team has also been deeply engaged in the creation of curriculum materials to support this credential.