The 9th SERC Doctoral Students Forum (SDSF) wrapped up the 2021 SERC Sponsor Research Review (SSRR) on November 4, 2021. This annual forum provides an opportunity for doctoral students conducting highly relevant, systems engineering-related research at a SERC collaborating university to present their research in an open forum amongst practitioners from the academia, government and industry sectors. Students can present regardless of whether the research was funded by SERC or not. This gives our sponsors a broader view into research taking place throughout the SERC consortium. Adapted for global circumstances, the event was held virtually and began with tutorials, in which members of SERC leadership led small teams to present two separate 2-hour tutorials to our audience simultaneously.
SERC Tutorial: Skyzer Surrogate Pilot MBSE Cost Model Use Case and Model Tour Demonstration
SERC Tutorial: Systems and Cyber Resilience Modeling
"Reexamining the Logical Foundation of Engineering Decision Making Under Uncertainty" presented by Best Student Presentation award winner: Chris White, UAH with corresponding poster below.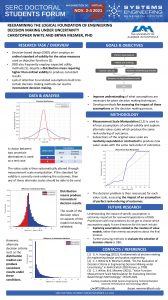 In one tutorial, Dr. Mark Blackburn, SERC Research Council member and Senior Research Scientist at Stevens Institute of Technology (Stevens), led the Digital Engineering tutorial "Skyzer Surrogate Pilot Overview and MBSE Cost Model Use Case with Model Tour Demonstration" with Don Allen, NAVAIR-SYSCOM and Taylor Fields, Georgia Tech, which elaborated on the development and evolution of the NAVAIR Skyzer Surrogate Pilot Model. The team discussed the following: development of a "Full Stack" of models that links to a model-based systems engineering (MBSE) cost model; use of a reference cost model as a starting point and creating a specific cost model that maps to the Skyzer system and Contractor/Request for Proposal (RFP) response models; and leveraging the Authoritative Source of Truth (ASOT) for extending models to satisfy specific stakeholder concerns (e.g., cost, airworthiness, cyber) and link back to key technical information included in the "Full Stack" of Skyzer models using Project Usages. Mr. Fields provided attendees a tour of the Skyzer Cost Model that included scenarios for a cost roll-up pattern, report generation, and mechanisms that allow subject matter experts to cost values using an Export/Import spreadsheet and synchronize these back into the Cost Model.
In the second tutorial, Dr. Peter Beling, SERC Research Council member and Professor at Virginia Tech, led a tutorial on using modeling and simulation to support cyber resilience. Dr. Beling, joined by: Tom McDermott, SERC Deputy Director, Megan Clifford, Stevens, and Tim Sherburne, Virginia Tech; discussed the latest findings from SERC security research and introduced two methods that are based upon more than six years of SERC research: 1) Framework for Operational Resilience in Engineering and Systems Test (FOREST), a meta-process model for use by the development and operational community that supports analysis and evaluation of resilience features in a system; and 2) Mission Aware (MA), a cybersecurity requirements elicitation process and MBSE metamodeling approach that captures cyber resilience requirements and patterns in a model-based design and test process for application across a systems lifecycle. The tutorial presented a step-by-step example of the methods applied to a fictional system called Silverfish, as captured in systems modeling tools.
Due to the high quality of nominations, SERC expanded its student-centric event to have seven doctoral student presentations and three SERC Doctoral Fellow research presentations. To be considered to present at the SERC Doctoral Students Forum, a faculty member from one of the SERC Collaborating Universities nominates a doctoral student along with an abstract. From the presentations, the Best Student Presentation is awarded on the basis of potential impact, advancement to systems engineering, originality, technical content, and clarity of presentation at the conclusion of the Forum. Congratulations to this year's winner, Christopher White from The University of Alabama at Huntsville, who presented "Reexamining the Logical Foundation of Engineering Decision Making Under Uncertainty". Christopher White is a Systems Engineering Ph.D. student at The University of Alabama in Huntsville. He has a B.S. in Aerospace Engineering from Iowa State University and was previously a research assistant in the Decision Processes Lab in the School of Psychology at Georgia Institute of Technology. His research focuses on decision making under uncertainty, measurement error in value-based engineering, and cognitive decision processes. Mr. White will receive a monetary award.
Thank you again to all our presenters and participants for making this event a success. An archive of all presentation recordings is now available on the event archive page along with the presentations and posters for download.