10th Annual SERC Sponsor Research Review
Thursday, November 8, 2018 @ 8:00 am

-

5:00 pm

EST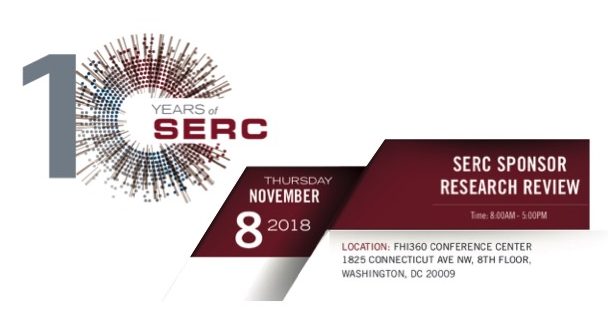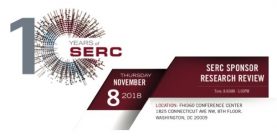 Thursday, November 8, 2018
8:00 am – 5:00 pm
FHI 360 Conference Center
1825 Connecticut Avenue, NW, #2
Washington, DC 20009
This one-day, sponsor-focused event united the government, industry, and academic systems engineering research community in order to share research progress and discuss the most challenging systems engineering issues today. The review highlighted over twenty ongoing SERC research projects. Researchers from the SERC universities discussed their research, highlighted results, and described opportunities for government agencies to sponsor and/or participate in their projects. Several of these research projects are ready for pilot use and transition to practice.
The program and sessions focus on the research results achieved in each of the four thematic areas of the SERC:
Trusted Systems,
Enterprise Systems and Systems of Systems
Human Capital Development
Systems Engineering and Systems Management Transformation
This year's SERC Founders Award was bestowed upon SERC Chief Scientist, Dr. Barry Boehm. Many thanks again, Dr. Boehm, for your continued contributions and championing of the SERC. Congratulations to this year's winner of the SERC Doctoral Student Forum (SDSF) 2018 Best Student Paper award, Jorge Buenfil from Stevens Institute of Technology for his research on "Inference Engine Applied to School Security for Robot-Man Teaming."
Attendance is open to government, Federally Funded Research Development Centers (FFRDCs), national laboratories, industry, and academic institutions. Events are free to Academia, FFRDCs and Government participants; Industry attendees were charged a nominal fee. 
For more event information, please contact Ms. Monica Brito.
Expand the agenda below to view presentations inline/in box .
Registration, Breakfast and Welcome
8:00a–8:30a
Registration and Continental Breakfast
8:30a–8:35a
Welcome from the SERC Executive Director and the SERC Chief Scientist and Chair, SERC Research Council
Dr. Dinesh Verma, Executive Director, SERC
Dr. Barry Boehm, Chief Scientist and Chair, Research Council, SERC
Sponsor Perspective and Challenges
9:00a–9:10a
Introductory Remarks
Ms. Kristen Baldwin, Deputy Director, Strategic Technology Protection and Exploitation, ASD(R&E)
Keynote Address
9:10a–10:00a
Morning Keynote Address
Mr. Paul Scharre, Senior Fellow and Director, Technology and National Security Program, Center for a New American Security; Author of Army of None: Autonomous Weapons and the Future War
Download Presentation
10:00a-10:15a
Poster and Networking Break
Research Reviews: Four parallel tracks with 40-minute sessions providing in-depth discussions on SERC research projects
Track 1: SE and Management Transformation (SEMT)
(Vista Room)
Track 2: Model-Centric Systems Engineering+ (Angle Room)
Track 3: Trusted; Critical & Resilient Systems+
(Balcony Room D)
Track 4: Human Capital Development+ (Balcony Room E)
10:15a–10:55a
Identifying and Measuring Modularity Violations in Cyber-Physical Systems
Lu Xiao, Stevens
Download Presentation
PEO Missiles & Space Systems Engineering Methods
Brock Birdsong, Auburn
Download Presentation
Human Machine Teaming Concepts for Resilient Cyber Physical Systems
Inki Kim, UVA
Download Presentation
SE Research Needs and Workforce Development Assessment (Pathfinder)
Dinesh Verma, Stevens
Download Presentation
11:00a–11:40a
Verification and Validation (V&V) of System Behavior Specifications
Kristin Giammarco, NPS


Download Presentation

Transforming Systems Engineering through Model-Centric Engineering (NAVAIR & ARDEC)
Mark Blackburn, Stevens
Download Presentation
Systemic Security and the Role of Hierarchical Design in Cyber-Physical Systems
Val Sitterle, Georgia Tech


Download Presentation

Workforce Evolution (Helix)
Nicole Hutchinson, Stevens
Download Presentation
11:45a–12:30p
Framework for Analyzing Technical Debt

Ye Yang, Stevens


Download Presentation

Interactive Model-Centric Systems Engineering (IMCSE)

Donna Rhodes, MIT


Download Presentation

Data Science Approaches to Prevent Failures in Systems Engineering

Karen Marais, Purdue


Download Presentation

SE Experience Accelerator
Jon Wade, Stevens
Download Presentation
12:30p–1:00p
Lunch (Catered) and Opportunity to View SERC Project Posters
1:00p–1:30p
Lunchtime Keynote Panel - IAWG Leadership Panel: Moderated by Scott Lucero, Deputy Director, Strategic Initiatives, Office of the Secretary of Defense
-James D. Tuttle, Chief Systems Engineer, Science and Technology Directorate, DHS
-Kent T. Jones, Assistant Deputy Administrator for Systems Engineering and Integration, National Nuclear Security Administration
-Chris Boehnen, Director of Science and Technology, Deputy Associate Director of National Intelligence for Transformation and Innovation, Office of the Director of National Intelligence
1:30p–1:45p
Transition Break
Track 1: SE and Management Transformation (SEMT)
(Vista Room)
Track 2: Model-Centric Systems Engineering+ (Angle Room)
Track 3: Trusted; Critical & Resilient Systems+
(Balcony Room D)
Track 4: Human Capital Development+ (Balcony Room E)
1:45p–2:25p
Formal Methods in Resilient Systems Design using a Flexible Contract Approach
Azad Madni, USC


Download Presentation

Meshing Capability & Threat-Based S&T Resource Allocation
Carlo Lipizzi, Stevens


Download Presentation

Security Engineering 2018
Barry Horowitz, UVa
Download Presentation
ESoS Model for Digital Thread Enabled Acquisition
Tom McDermott, Stevens
Download Presentation
Next Gen. Adaptive Cyber Physical Human Systems
Azad Madni, USC


Download Presentation

2:30p–3:10p
System Qualities (SQs) Tradespace and Affordability
Barry Boehm, USC
Download Presentation
SERC Doctoral Fellows Best Paper Presentation
Jorge R Buenfil
Download Presentation
Game-Theoretic Risk Assessment for Distributed Systems (GRADS)
Paul Grogan, Stevens
Download Presentation
Approaches to Achieve Modularity Benefits in the Acquisition Ecosystem
Dan DeLaurentis, Purdue
Download Presentation
3:15p–3:55p
Electronics Survivability and Product Assurance in Harsh Environments
Nakul Kothari, Auburn
ODNI Sensemaking
Suba Subbalakshmi, Stevens
Download Presentation
Capstone Marketplace
Bill Shepherd, Stevens
Download Presentation
Mission Engineering Competencies
Nicole Hutchison, Stevens
Download Presentation
SERC Workshops 2018
Tom McDermott, Stevens
Download Presentation
4:00p–5:00p
Poster and Networking Session
Executive Advisory Board Meeting (invitation only)