SoSECIE: System of Systems Architecture Feasibility Analysis to Support Tradespace Exploration
Tuesday, October 16, 2018 @ 11:00 am

-

12:00 pm

EDT
The System of Systems Engineering Collaborators Information Exchange (SoSECIE) is a web-based seminar series organized by the Office of the Deputy Assistant Secretary of Defense (SE) in association with the National Defense Industrial Associations's SoS Engineering committee. The goal of this series is to provide guidance, education and training for SoS and dissemination of engineering best practices within the government, military, contractors, academia and International partners.
The webinar will be held on Tuesday, October 16th from 11 am-12 pm ET.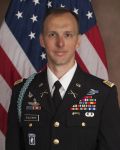 Speaker: MAJ Stephen Gillespie, PhD, U.S. Military Academy.
Title: System of Systems Architecture Feasibility Analysis to Support Tradespace Exploration
Abstract: The exploration of a system of systems (SoS) trade-space is made much more efficient and effective with a method to first automatically screen a large number of SoS designs for feasibility. This is because not every combination of constituent systems is capable of forming a viable SoS, much less form a SoS that exhibits the desired emergent behavior(s). The SoS Architecture Feasibility Assessment Model (SoS-AFAM) assesses the feasibility of the physical communications, process, and organizational architectures of a SoS. The model applies algorithms based on the minimum requirements for viability relevant to all SoS such as connectivity and completeness. We present a case study to demonstrate how the algorithm can greatly prune the SoS trade-space of infeasible SoS design points, which can increase the efficiency of design exploration.
Bio: MAJ Stephen Gillespie is an Army officer, currently assigned as an instructor in the U.S. Military Academy Department of Systems Engineering. His research interests include model-based
systems engineering and system-of-systems engineering. This work is a result of his graduate school research. Prior military experience include service as an infantry officer in the 173rd
Airborne Brigade and 4th Infantry Division, to include two deployments to Afghanistan and one to Iraq. He earned a PhD. in Systems Engineering from the Naval Postgraduate School and a M.A.
and B.A. in Mathematics from Boston University.
For more information, contact the SoSECIE Webinar Coordinator to be added to the e-mail list for future announcements, to obtain access instructions, or to make suggestions for future presentation topics.