SERC Workshop: MODEL CURATION
Thursday, April 30, 2020 @ 8:00 am

-

5:00 pm

EDT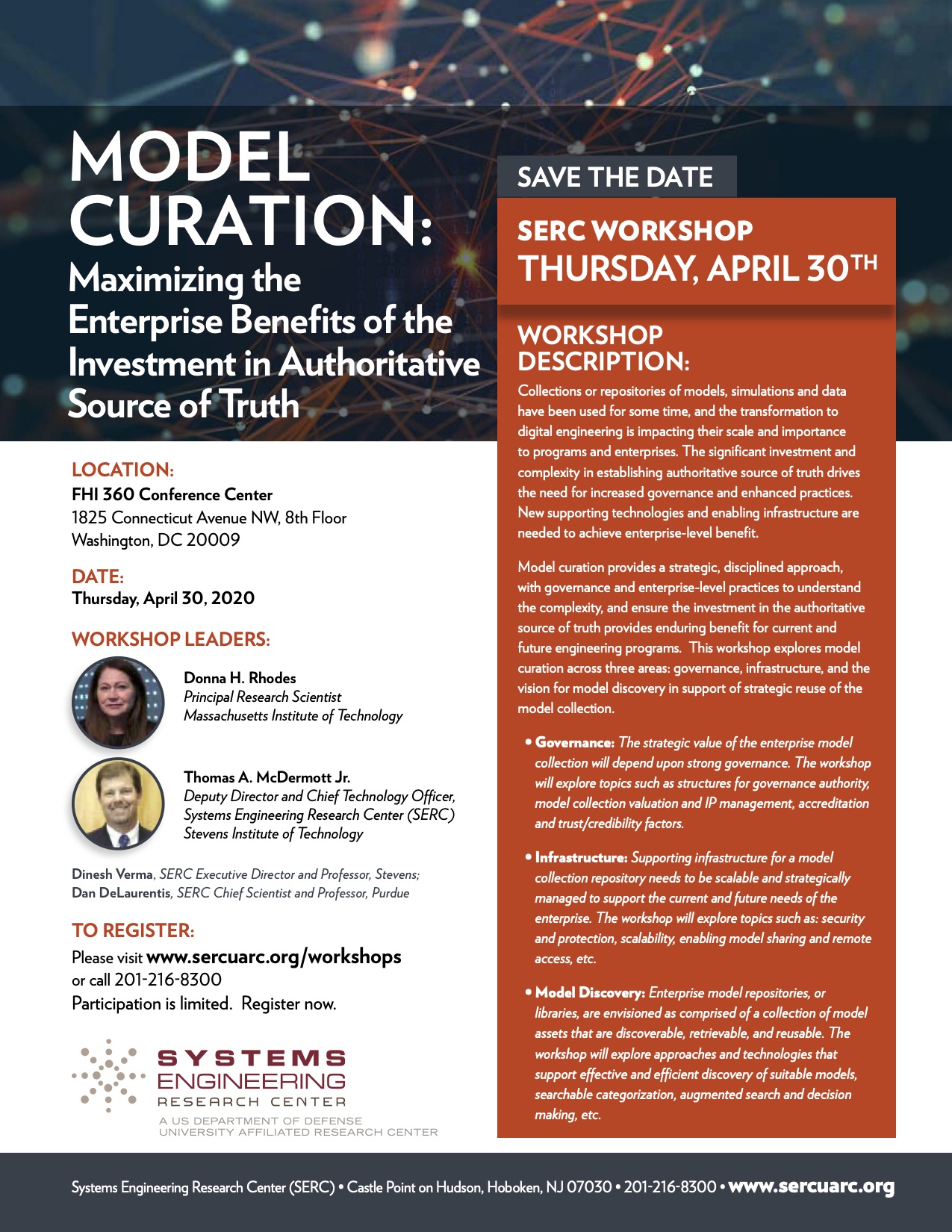 This message is to inform you that due to the COVID-19 outbreak, we unfortunately have to postpone the Model Curation Workshop scheduled for April 30, 2020. We are currently exploring new dates for Fall 2020.
We sincerely apologize for any inconvenience this may cause and look forward to reconnecting with you, once the workshop date has been rescheduled.
SERC Workshop on MODEL CURATION: "Maximizing the Enterprise Benefits of the Investment in Authoritative Source of Truth"
Collections or repositories of models, simulations and data have been used for some time, and the transformation to digital engineering is impacting their scale and importance to programs and enterprises. The significant investment and complexity in establishing authoritative source of truth drives the need for increased governance and enhanced practices. New supporting technologies and enabling infrastructure are needed to achieve enterprise-level benefit.
Model curation provides a strategic, disciplined approach, with governance and enterprise-level practices to understand the complexity, and ensure the investment in the authoritative source of truth provides enduring benefit for current and future engineering programs. This workshop explores model curation across three areas: governance, infrastructure, and the vision for model discovery in support of strategic reuse of the model collection.
• Governance: The strategic value of the enterprise model collection will depend upon strong governance. The workshop will explore topics such as structures for governance authority, model collection valuation and IP management, accreditation and trust/credibility factors.
• Infrastructure: Supporting infrastructure for a model collection repository needs to be scalable and strategically managed to support the current and future needs of the enterprise. The workshop will explore topics such as: security and protection, scalability, enabling model sharing and remote access, etc.
• Model Discovery: Enterprise model repositories, or libraries, are envisioned as comprised of a collection of model assets that are discoverable, retrievable, and reusable. The workshop will explore approaches and technologies that support effective and efficient discovery of suitable models, searchable categorization, augmented search and decision making, etc.