NDIA's 2018 Armament Systems Forum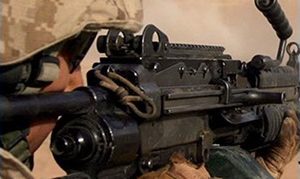 The NDIA 2018 Armament Systems Forum will be held from 7-10 May 2018 at Indianapolis, Indiana. The forum will provide the U.S. and international allied armament governments and industries a framework to understand evolving global requirements and capabilities. The agenda will cover trends in armament systems and technology that are shaping the enterprise today and in the future.
The forum is planned as a single event with concurrent parallel events for each of the three division committees to ensure synergism, communication, and networking opportunities across the armament community thus ensuring value and benefits for attendees and exhibitors. The concurrent events will also allow for an expanded number of technical/oral presentations and poster presentations addressing subjects relevant to legacy and evolving future armaments.[divider_flat]
Conference Theme: "Armament System Response to the Evolving Threat Spectrum".
Themes for the three parallel events:
Small-Arms Systems: Small-arms technology that creates asymmetric operational advantage for soldiers, sailors, airmen, and marines.
Guns, Ammunition, Rockets & Missiles Systems: Armament system modularity and scalability, enabling operation capability across an expanding threat spectrum.
Unconventional Emerging Technology Armament Systems: Emerging Armaments — Kinetic to electromagnetic and other defeat mechanisms on target.
The individual committees will plan agendas focused, as described below in this call for papers, to the topics and scope desired by that community. Networking breaks, luncheons, and a reception will be coordinated to encourage networking between the communities.
In response to the evolving Threat Spectrum Armament System and Technology advancements have established advanced capabilities for which information distribution is limited. The Armament Division has established a Forum agenda section dedicated to these topics and enabling qualified attendees access to these topics which are shaping the future of Armament Systems.Proof of citizenship is required for these special technical sessions. (Ex. U.S. Passport).
The following is included for your paid registration:
All general and breakout sessions
Vendor displays
Continental breakfasts, networking breaks, and networking lunches
Onsite agenda and meeting materials
Post-event speaker proceedings (if released by speaker)
All meals, breaks, and refreshments are included in the paid industry, government, and academic registration.
Registration Fees
 

Early Registration 12/21/2017 – 2/19/2018

Regular Registration 2/20/2018-3/19/2018

Late Registration 3/20/2018 – 4/6/2018

Academia

Please note that this category is for full-time professors.

$725
$775
$825

Attendee Exhibit Hall only

Please note that there will be no lunches included for this price; however, breaks are included.

$150

Exhibitors

Please note that this is for industry individuals that have two additional exhibitors. This payment is for the full conference.

$300

Firing Demonstration

This registration includes a boxed lunch and transportation to the firing demonstration.

$75
Government Employee – U.S Civilian/ DoD

Contractors do not qualify for government registration and must register as Industry. A valid government or military employee email is required at time of registration and employee ID is required at time of onsite check-in. -75 complimentary registrations total between

$550
$595
$650
Government- Foreign and Allied

Please bring your government ID during registration.

$725
$775
$825
Government: Military/Active Duty

Offered to 75 government employees OR active duty military. Registration for the program is complimentary (does not include lunch). Contractors do not qualify for government registration and must register as industry. A valid government or military employee email is required at the time of registration. •Purchase a $75.00 for a meal pass -can be added during the time of registration.

$550
$595
$650
Industry NDIA Member

NDIA and Affiliates (NTSA, PSA, WID)

$725
$775
$825
Industry NDIA Non-Member
$825
$875
$925

Speaker

Please contact K. Ashley Phayme at aphayme@ndia.org for information regarding your registration.
For more information regarding the conference, visit the website. Questions? Please contact K. Ashley Phayme at aphayme@ndia.org.