NDIA 26th Annual Systems and Mission Engineering Conference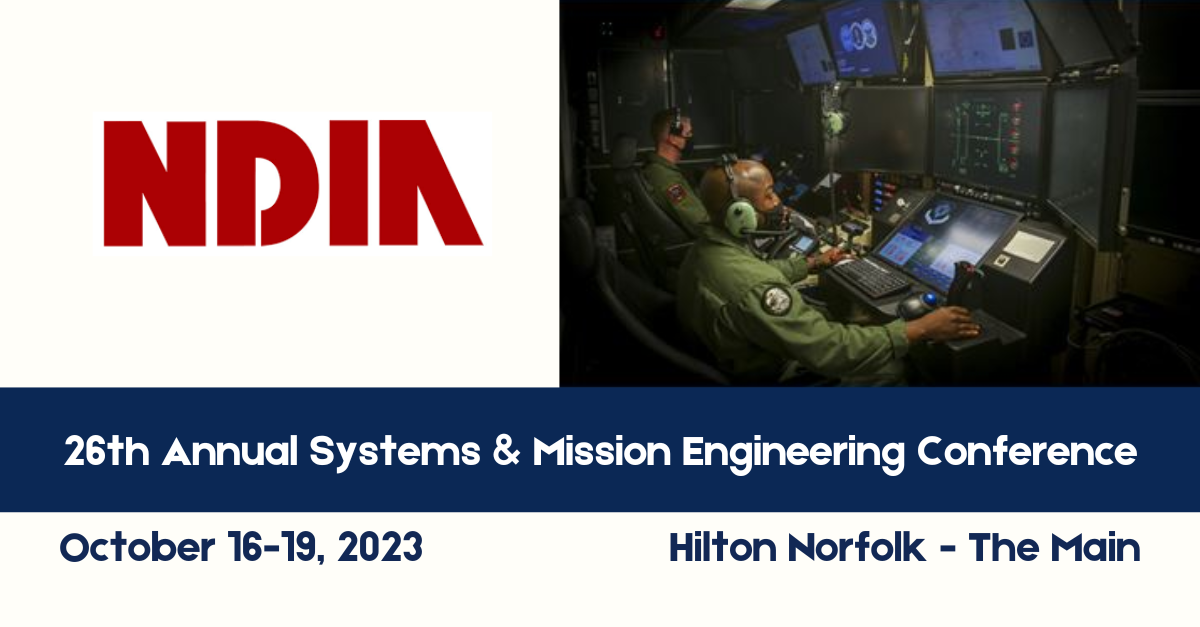 The NDIA Systems Engineering Division will be holding the 26th Annual Systems and Mission Engineering Conference in Norfolk, VA on October 16-19, 2023. Held in co-sponsorship with the NDIA Test & Evaluation Division and the NDIA Integrated Program Management Division, the 2023 Systems and Mission Engineering conference brings together defense community members from industry, government, and academia to highlight ways for improving defense acquisition and system performance, providing an interactive forum for program managers, systems engineers, chief scientists, specialty engineers and managers.
Abstracts
Interested participants are invited to submit a short (5000 characters/ estimated # words maximum) abstract of a presentation for a topic as listed below. Abstracts must fully describe the planned content and how the presentations will advance the objectives of the conference and session. All accepted presentations will be delivered at the conference in electronic format. Abstracts must be submitted no later than June 5, 2023 via the online submission page.
Presentation Topics
Participants will have an opportunity to shape policy and procedures by exchanging innovative methods and lessons learned in the following trending topic areas. However, the topics are not limited to what is below and we would like to encourage any other topics that will contribute to the overall quality and content presented at our conference.
Enabling Agile Throughout the Lifecycle
Mission Engineering / System of Systems
Actionable Architecture / MOSA Impact
Model Based Systems Engineering (MBSE)
Test & Evaluation
Digital Engineering Environment (DEE)
Digital Twin
Physics-Based Modeling & Simulation
System Security Engineering (SSE)
Safety and Environmental Engineering (SEE)
Specialty Engineering (Human Systems, Reliability, Maintainability, Supportability)
Program Management
Education & Training
Other topics related to the above
Presentations
PowerPoint or equivalent slide presentation for 30 minutes total: 25 minutes for presentation and 5 minutes for questions. Demos and video may be embedded in the presentation, authors will contact their accepting conference track leads for details on what can be presented.