MBSE Applied Webinar – International Digital Enablement Week 2021
April 16 @ 8:30 am

-

11:30 am

EDT

Free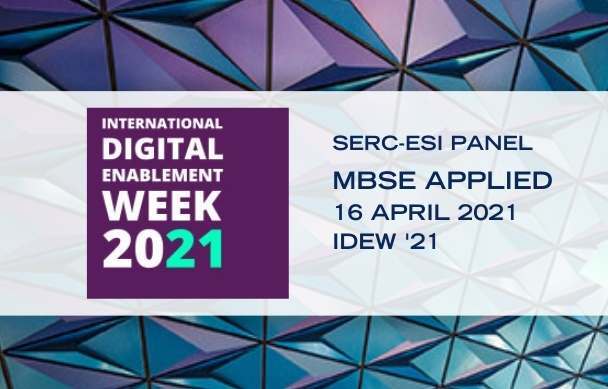 As high-tech systems become more and more complex and the number of system variants grows, the high-tech industry seeks methods and tools to manage the consequences for their business (e.g., in terms of time-to-market, risks and costs in R&D, service, manufacturing, transport and installation). Model-Based Systems Engineering (MBSE) is an approach to systems engineering for which successful applications have been reported in dedicated industries such as defence and aerospace.
In the webinar, co-organised by SERC and ESI, an ESI-study team will share their insights in MBSE for the commercial high-tech industry and speakers from SERC and from the industry will share their knowledge and experience regarding practical application of MBSE in a wide range of applications. Together with its industrial and academic partners, ESI has started a study to analyze how MBSE can also be successfully applied in companies such as ASML, Canon CPP, Philips, Thermo Fisher Scientific and Vanderlande.
Dinesh Verma, Executive Director, Systems Engineering Research Center (SERC) – Chair
Brynn Watson, VP for Digital Transformation, Lockheed Martin – Keynote
Jacco Wesselius, Project Leader, ESI (TNO)
Paul Schreinemakers, Expert Systems Engineer, How2SE
Ryan Noguchi, Director, Space Architecture Department, Aerospace Corporation
Michael Vinarcik, Chief Systems Engineer and Adjunct Professor, SAIC and Detroit Mercy University
Vincent Capony, Systems Engineering Consultant (CEO), Geni6
Chris Watkins, Sr Project Manager, Advanced Flight Deck, Gulf Stream Aerospace Corporation
Wouter Leibbrandt, Director Science and Operations, ESI (TNO). Co-Chair
INTERNATIONAL DIGITAL ENABLEMENT WEEK 2021
All events will feature speakers from industry and universities that introduce the problem and explore solutions, followed by discussions with all participants. A detailed program introducing the lectures will be published on the website along with the confirmation and information that you will receive after registration.
Daily online sessions will be conducted during the week 13-20 April from 9:30 AM -12:30 PM ET organized by ESI (TNO) and its national and international partners High Tech NL, OFFIS/DLR, SERC and TNO.
Tuesday April 13, 2021: Managing your legacy – ESI
Wednesday April 14, 2021: Hoe volg ik mijn klant?! (Dutch) – ESI and High-Tech NL
Thursday April 15, 2021: Verification, Validation, Configuration – ESI and OFFIS/DLR (Germany)
Friday April 16, 2021: MBSE applied – ESI and SERC (USA)
Monday April 19, 2021: Data sharing, AI, and Digital Twinning – ESI and TNO unit ICT
Tuesday April 20, 2021: Reference Architecting – ESI