ISTE's Transdisciplinary Engineering 2022 Conference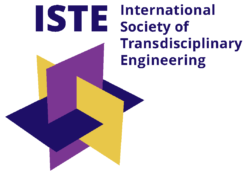 Today's complex problems, especially those with significant impact on nature and society, require a holistic approach for solving them by considering knowledge from a diverse range of disciplines, technical as well as social, and from user and practitioner communities. Interchange of cross-disciplinary knowledge is needed to evaluate and design for sustainable benefits and costs shared equitably across society and nature.
​The International Society of Transdisciplinary Engineering (ISTE) aims to explore and promote the evolution of engineering to incorporate transdisciplinary practices in which the exchange of different types of knowledge and people from a diverse range of disciplines is fundamental. The Transdisciplinary Engineering (TE) Conference is the exchange of knowledge in the context of an innovation, in product, process, organization or social environment. Through ISTE, the exchange of knowledge is possible in its annual conferences, the TE Conferences, and through publication of special issues in scientific journals.
The next TE conference will be held in the summer of 2022 on the MIT campus in Boston, USA. The theme for the TE2022 conference is "The Future of Engineering." Engineering is changing rapidly. The connectedness of the world's most critical systems along with rapid advancement of methods push us to ask "How will we teach, research, and practice engineering?" The recent decade has shown an ongoing shift towards model-based design, instrumented products and teams, data-driven analytics, rapid prototyping, and continuous delivery. These changes are enabled on digital and physical platforms driven by distributed teams and open interfaces. Transformations are underway in several industrial sectors, including energy, agriculture, health, and mobility. It is an exciting time to be an engineer.
We recognize the insufficiency of simple boundary crossing amongst traditional disciplines, given that engineers move beyond disciplinary norms established in the mid to late 20th century. Today we address systems in their context across a life-cycle, collaborate with a myriad of stakeholders and non-engineering experts, and — for these most valuable and daunting challenges – generate new engineering disciplines.
The conference will be organized across three tracks:
 Research on Engineering
 Engineering Education
 Engineering Practice
The conference will also include keynote speeches, panels, and posters.
Jan 7, 2022:  Abstract submission and workshop proposal deadline
Jan 31, 2022:  Notification of abstract approval
Mar 15, 2022:  Deadline for full paper submission
Apr 23, 2022:  Feedback on submitted papers
May 26, 2022:  Deadline for final paper submission
Mar 14, 2022:  Registration opens (all participants)
Jul 5-8, 2022:  Conference event at MIT, Cambridge, MA, USA
Abstracts required by January 7, 2022.
Visit the conference website for: Themes and Topics | View the Call for Participation
​Preparing your abstract submission:
Title: The title conveys the main topic of the research. It should be concise, descriptive, and grammatically correct. Periods should be avoided, instead authors can use commas, colons or dashes. The conference attracts participant from a wide audience. Therefore, avoid abbreviations and jargon that those outside of your field may not understand.
Abstract: The abstract contains a summary of the entire paper and can be a maximum of 200 words. Abstracts should consist of a single paragraph with any abbreviations defined. Where possible you should apply the following structure: A background to the societal challenge your approach or solution is intended to solve, a brief description of the methods including details of the disciplines and stakeholders who were involved in creating the approach or solution, the principle results, then conclusions including the expected societal impact.
​Keywords: The Keywords are chosen by the author and should provide a key insight into the content of the paper. The keywords should related to transdisciplinary engineering and the areas of interest.
​Submission of abstract and papers on EasyChair: https://easychair.org/conferences/?conf=te2022 ​
**The date for notifications of abstract acceptance is 31 January 2022. If accepted, a full draft paper is due in March. See the key dates. Further information on submitting your final paper will follow. For your information, the paper template is available to download from the Easychair abstract submission webpage. Papers should be a maximum of ten pages which should include references