Complex Adaptive Systems Conference 2018
Monday, November 5, 2018 @ 8:00 am

-

Wednesday, November 7, 2018 @ 5:00 pm
Event Navigation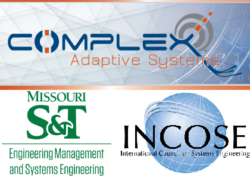 Conference Theme: 

Cyber Physical Systems and Deep Learning
The 2018 Complex Adaptive Systems conference will be held from November 5-7, 2018, at Chicago, Illinois. In this conference researchers from academia, industry and government will discuss how deep learning and machine learning models contribute in designing complex adaptive systems. Join other professionals from around the globe to share current activities and findings to expand the boundaries of research in Complex Adaptive Systems.
Multi-faceted systems of the future will entail complex logic and reasoning with many levels of reasoning in intricate arrangement. These systems are organized in an intricate web of connections and must demonstrate self-driven adaptability. They have dynamically changing meta-architectures. They must be designed for autonomy and can exhibit emergent behavior that can be visualized. Cyber physical systems will impact manufacturing, defense, healthcare, energy, transportation, emergency response, agriculture and society overall. The success of these systems will depend on how they handle challenges related to areas such as cybersecurity, interoperability, privacy, safety and socio-technical aspects – mainly interaction of human behavior.
CONFERENCE TRACKS 
Architecting Cyber Physical Systems
Machine Learning Algorithms
Recursive Deep Learning Networks
Convolution Deep Learning Networks
Deep Learning in Cyber Security
Machine Learning for Smart Cities
Deep learning models for Smart Grids
Adaptive Data Analytics
Cyber Manufacturing Systems
Deep Learning in Healthcare Systems
For details on abstract submission and the event, click here.
Registration details will be available shortly.
For technical information, contact Cihan H. Dagli and for registration information, contact Tanya Ragain or complexsystems@mst.edu.