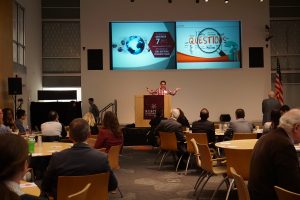 The Systems Engineering Research Center (SERC) is inviting all faculty at SERC Collaborating Institutions to nominate their doctoral students for the 2018 SERC Doctoral Students Forum (SDSF). The event will be held on 7th November, 2018 in Washington D.C. The SERC Doctoral Students Forum provides an opportunity for doctoral students conducting highly relevant, systems engineering-related research at any of the SERC collaborating universities to present their research in an open forum. Students can present regardless of whether or not the research was conducted through a SERC initiative. This half-day event drives high impact by exposing the attendees to research that they may not have otherwise encountered.
Call For SERC Doctoral Student Presentation Nomination: The SDSF is open to any doctoral student from a SERC collaborating university to present his or her research, even if the research was not funded through a SERC research task. Students must be nominated by faculty at their collaborating university. The SERC has (limited) funding to cover the students' travel expenses.
There are ten 45-minute presentation slots available (35 minutes for the presentation; 10 minutes for Q&A).  Nominated student research will be assessed according to four criteria:
Potential impact of the research to the DoD or the federal government;
Creativity, novelty, and uniqueness of the research and approach;
Research is Systems Engineering research, not just SE-related research; and
Funding source (is the research currently funded, and, if so, is it funded by a federal agency?)
Call for SERC Best Student Paper Award Nomination: A Best Student Paper is awarded on the basis of potential impact, advancement to systems engineering, originality, technical content, and clarity of presentation.
In order to leverage this great opportunity to showcase your research project to highly prestigious individuals, please fill in the Nomination form from the reference faculty.
NOTE: The SERC Doctoral Student Presentation Nomination Form and SERC Best Student Nomination forms are found together; completing will automatically include your paper for consideration of both the SERC Best Student Paper Award  and presentation at the SERC Doctoral Student Forum (SDSF).
Please submit completed forms and all supporting documentation to Tom McDermott by 5 PM Eastern time on Friday, August 24.
For more information about the SDSF and SSRR please visit the event pages.